Electric scooters with seats are becoming a daily use item nowadays. Every household is using electric scooters for short single-person commutes. This not only saves money on fuel but also helps the cause of a cleaner and greener environment.
The problem with most electric scooters in the market is that the rider has to stand on them. At times it can become really tiring just standing in the upright position and riding the electric scooter. Electric scooters have come up with a solution, so you don't have to worry.
Now you can buy electric scooters with seats for adults. This means that you no longer need to stand up on the scooters for miles. Seated electric scooters amplify the advantages already being offered by an electric scooter. I will try to cover the 10 best electric scooters with seats for adults available on the market.
I've tried to collect maximum products from renowned e-commerce selling platforms such as Amazon and eBay. Though some of the products might not be in stock currently, they are a viable option nonetheless. You can buy those once they are back in stock.
So, let's begin without further ado!
Top Electric Scooters With Seats for Heavy Adults
1. Razor Eco-Smart Metro Electric Scooter
RAZOR ECOSMART METRO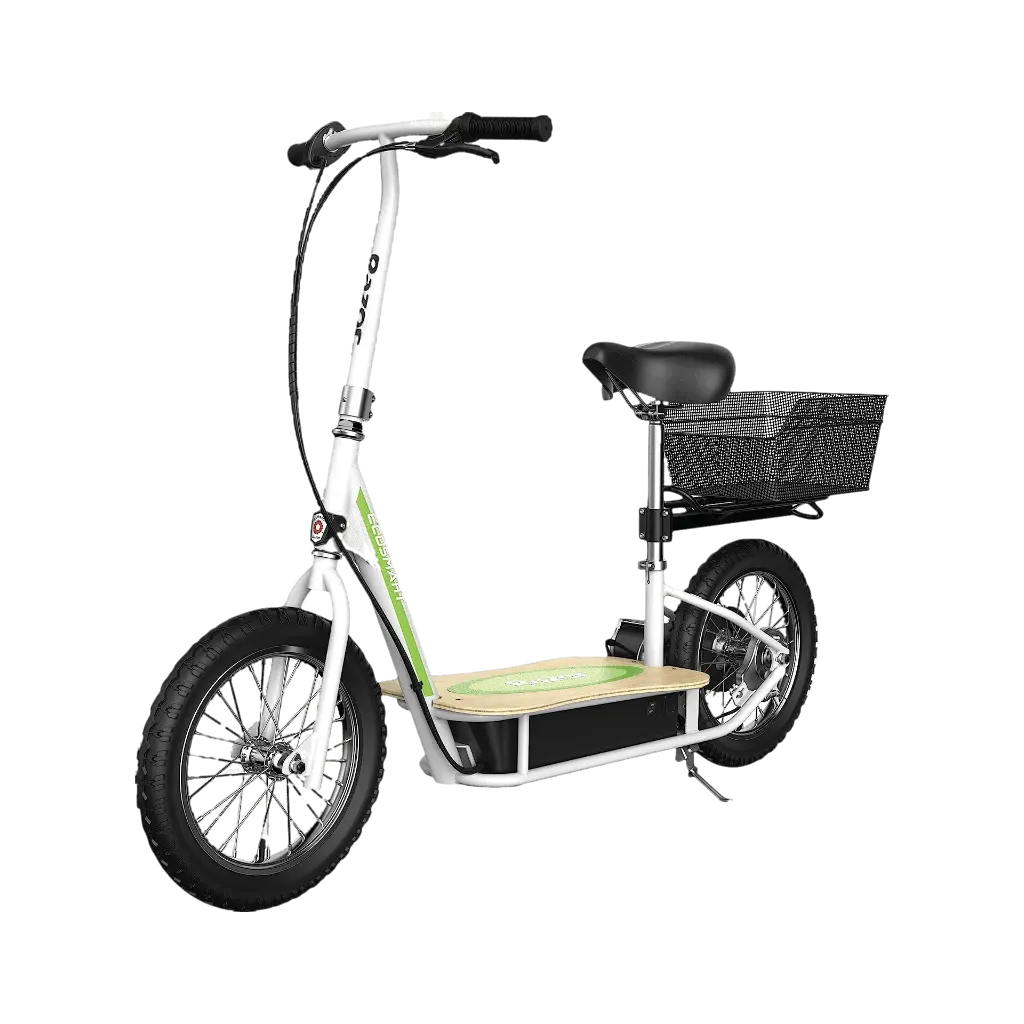 $449.00
Top Speed: 18 mph
Range: 12 miles
Motor: 500 w
Weight: 65.12 lbs
Load: 220 lbs
Razor Eco-Smart Metro Electric Scooter is our number one pick if you want to choose an electric scooter with a seat for an adult. Don't be surprised if you see too many electric scooters by Razor listed in this article.
Because Razor has been leading the electric scooter industry for quite some time now. This particular model comes with a soft padded seat for added comfort. Plus, you will also find a cargo carrier option on the back.
It has a respectable top speed of 18 mph. At this speed, you can drive up to 40 minutes, hence a range of 12 miles in total. It is a rear-wheel-driven electric scooter that ensures extra ease and comfort while riding.
It is one of the two products with an Amazon's Choice badge on the platform. This goes on to show the popularity of this product. If you're looking for an overall package, then Razor Eco-Smart Metro should be a no-brainer.
2. Razor E200S Electric Scooter
The second best electric scooter on the market with a seat is again by Razor. The Razor E200S comes with a slightly smaller motor of 200 Watts, but it also offers an estimated driving time of 40 minutes. It has a top speed of 12 mph, which is, again, not that bad.
There were other options as well with better top speed and range, but I've chosen Razor E200S for the second spot due to one reason only, which is customer satisfaction. Razor products never shy away from their promises. They always deliver results as advertised.
So, if Razor is saying E200S has a range of 12 miles, then you got to believe that it will go 12 miles. That, to me, is everything.
3. Zipper VHE05B 800W Electric Scooter with Suspension
ZIPPER VHE05B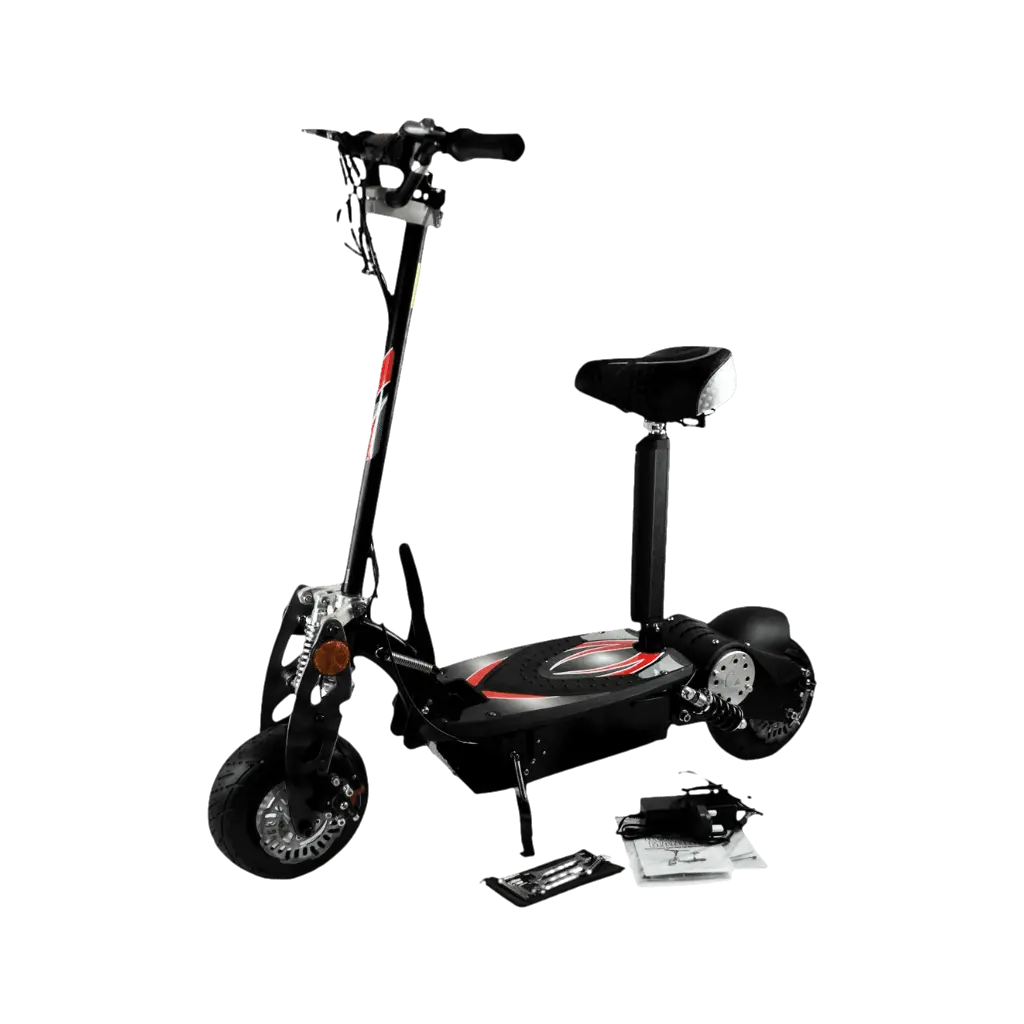 $380.00
Top Speed: 15.5 mph
Range: 20 miles
Motor: 800 w
Weight: 88 lbs
Load: 240 lbs
The Zipper is an emerging electric scooter brand in the UK, but you can find their products elsewhere as well. VHE05B is a model specially designed to take on heavy loads and provide you with a bit of thrilling acceleration. Due to these special features, I've placed it as number three on this list.
Many have criticized the heavy structure of this electric scooter as this is the major reason why this product does not perform as advertised. Still, it can give a pretty decent range of up to 10-12 miles. Plus, it has a removable seat, so you can ride without a seat whenever you please.
Related Articles:
4. Razor Pocket Mod Miniature Euro-Style Electric Scooter – Betty
RAZOR POCKET MOD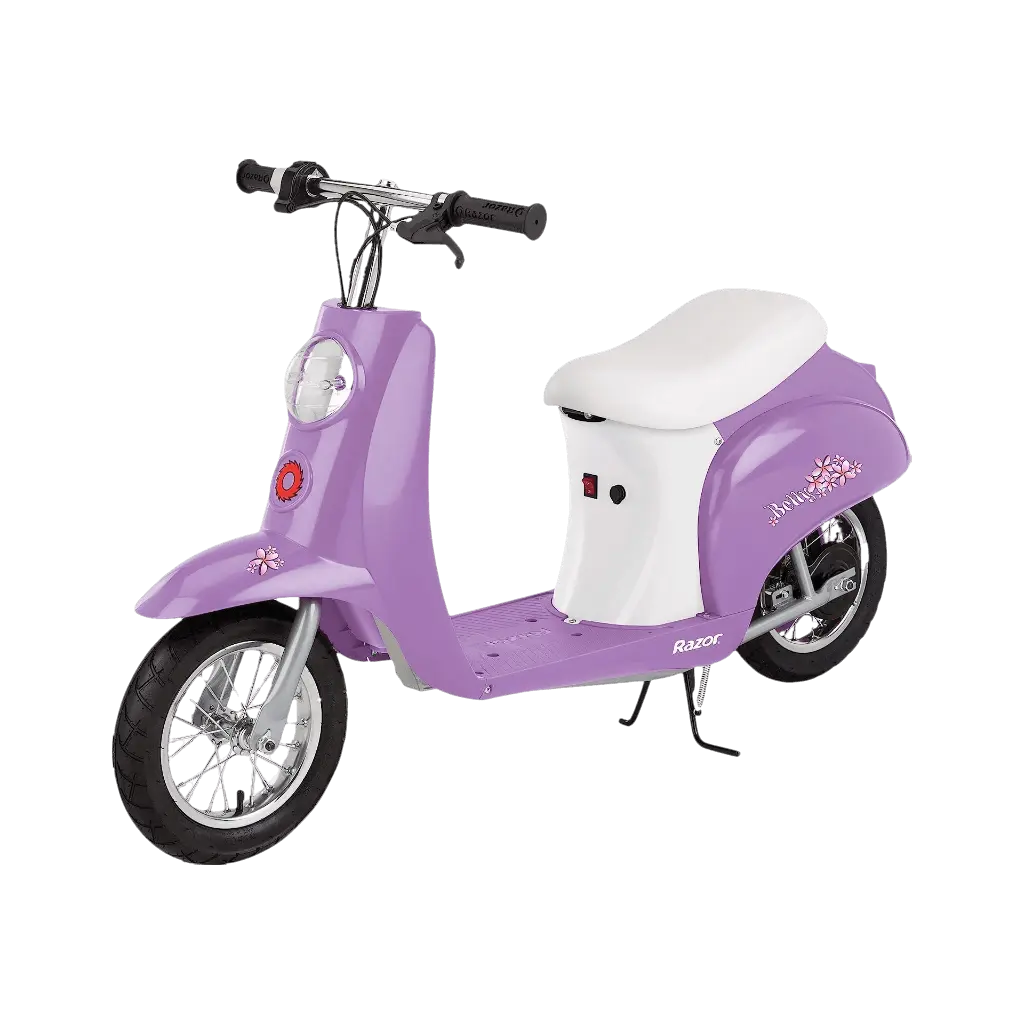 $449.99
Top Speed: 15 mph
Range: 10 miles
Motor: 250 w
Weight: 50.5 lbs
Load: 170 lbs
Razor Pocket Mod Miniature was basically designed as a women's and kid's electric scooter. Why I say, this is because of the flashy colors in which this product is offered. You will find a lot of color options to choose from while purchasing this Razor electric scooter.
Betty can hit a top speed of 15 mph, and you can drive up to 40 minutes at this speed. The advanced version of this model is Pocket Mod Bellezza which can give a range of 10 miles.
But this product is currently not available on Amazon, so you might have to wait for some time before you can get your hands on this amazing electric scooter for adults.
5. T-Sport Power 3-Wheel Folding Electric Scooter with Seat
T-SPORT POWER 3 WHEEL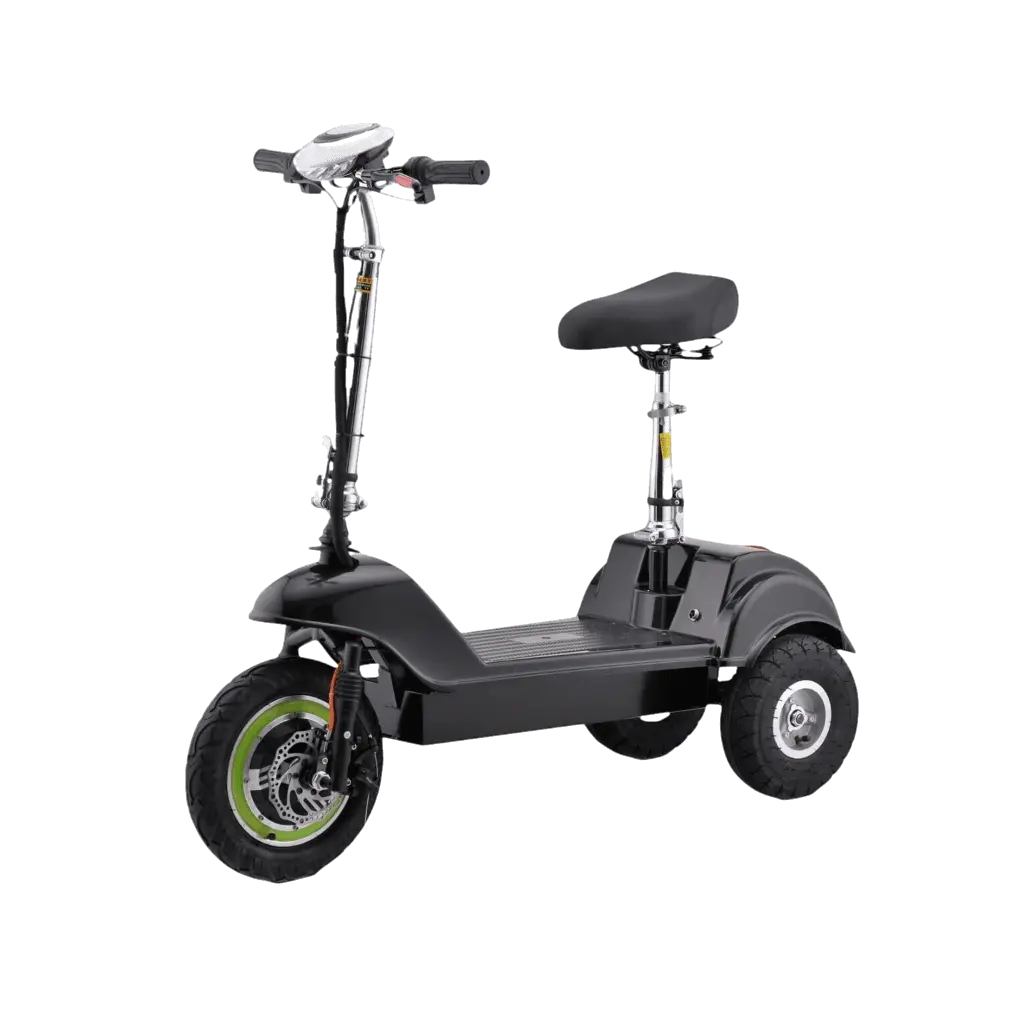 $750.00
Top Speed: 4 mph
Range: 19 miles
Motor: 350 w
Weight: 92.59 lbs
Load: 220 lbs
T-sport Power 3 is a street-legal electric scooter in the UK. Some of my friends are using it, and they have had no complaints so far. The only problem is that it can only achieve a top speed of 4 mph, as it is a necessity to make any electric scooter street-legal in the UK.
But a lower top speed means a longer range. You can go up to 19 miles in this electric scooter. It is an extremely suitable product for pregnant women and elderly people. They can go from place A to B without fear of their scooter running out of charge.
6. Razor E300 Electric Scooter With Seats for Kids
Yet another Razor product is on the list. E300 is an amazing electric scooter by Razor with a top speed of 15 mph. You can cruise at this speed for about 40 minutes, making it very useful for shorter trips within malls or grocery stores.
This product has a solid build as it features an all-steel frame and fork. The sturdy body of the scooter ensures that your ride is smooth and jerk free. It takes somewhere between 12 and 24 hours to charge this electric scooter at a normal electrical socket at your house.
Related Articles:
7. Zipper VHEX1 600W 48V Electric Scooter
Zipper is also coming up with some exceptional electric scooters. VHEX1 is a particular model designed to give the longest range. You can go as far as 35 miles on a single charge, depending upon the rider's weight, terrain, and driving style, thanks to the 18 Ah lithium-ion battery pack.
Zipper has also integrated its products with fast charging capability. Where its rivals take 12 hours minimum to recharge their batteries, Zipper VHEX1 needs only 6 hours to fully regain its range. The rear-wheel driven scooter also provides riding safety with disc brakes on the front and rear.
8. Ewheels Ew-36 Elite Recreational Electric Mobility Scooter for Adults
Ew-36 Elite Recreational by Ewheels is a good product if you're looking for a highly comfortable electric scooter. The scooter is well-built, and the cushioning on the seat is pretty well. It can achieve a top speed of 18 mph, and as per advertisements, it can go as far as 43 miles.
Though a range claim of 43 miles is not true, this electric scooter can go up to 20 miles which is a respectable range, in my opinion. Don't let the negative comments keep you from buying this amazing product. It does the job of an electric scooter just fine.
9. iLiving i3 Foldable Electric Scooter Mobility for Seniors and Adults
What is the range? : 14 miles
What is the maximum load it can endure? : 300 lbs
The power of the motor: 200 W
i3 foldable electric scooter by iLiving is designed as a replacement for wheelchairs. But it is an electric scooter nonetheless, which is why it has made its way to our list. You can fold this electric scooter pretty easily and roll it easily like luggage.
The weight of the scooter itself is only 53 lbs, so you can easily pick it up and place it anywhere you like. It would need only a space of 20 inches x 30 inches.
10. Jetson Bolt Adult Folding Electric Ride On for Adults 250 lbs
What is the range? : 15
What is the maximum load it can endure? : 250 lbs
The power of the motor: 250 W
The adult folding scooter by Jetson Bolt is a great option in the category of electric scooters. It features a cruise control option so that you don't have to use the throttle again and again. Just adjust the speed, then sit back and enjoy. The maximum speed of this electric scooter is capped at 15.5 mph.
The frame of the Jetson Bolt electric scooter is made out of aluminum. This means that it is extremely lightweight, and you can easily carry it anywhere you like. The frame also features a set LED headlight to make the way ahead of you bright.
Final Word, Best Electric Scooters With Seats for Adults
Electric scooters are a great vehicle of choice for carrying out day-to-day chores. But at times, riding an e-scooter without a seat can be tiring and uncomfortable. Electric scooter manufacturers have come up with a great solution to solve this problem in the form of electric scooters with seats.
With the 10 best e scooters with seats for adults, you can now sit back and enjoy the ride. Not to forget that electric scooters have numerous environmental benefits. They reduce the use of cars and other means of commuting powered by conventional fuel.
These electric scooters can be purchased at a fairly reasonable price from prestigious platforms such as Amazon and eBay. Check for their availability before making a purchase decision, as these products are hot-selling items, so they are often out of stock.
Do you own an electric scooter and want to upgrade to an electric scooter with seats? If yes, then do check the options listed in the article above. Do let us know if you have used any of the above-mentioned electric scooters with seats for adults.
We would love to hear from you!