It wouldn't be wrong to call 2020 a decade of electric vehicles. No matter the type of vehicle, all automakers are trying to take the lead in converting to electric drivetrains. And this is good for the consumer market and the planet in general.
E Dirt bikes have a huge market. People use these to traverse adventurous terrains. With this air of converting to electric all around the market, dirt bike makers are also following the trend. Previously, electric bikes were only being manufactured for kids.
But now you can find a lot of options for adults as well. We bring you the 5 best electric dirt bikes for adults you can buy in 2023. All of these products are available on Amazon. We'll critically analyze these dirt bikes and see why they are the best ones.
So, let's get started!
Top Electric Dirt Bikes for Adults
1. TOP PICK FOR ELECTRIC DIRT BIKE: Razor MX650 Dirt Rocket Electric-Powered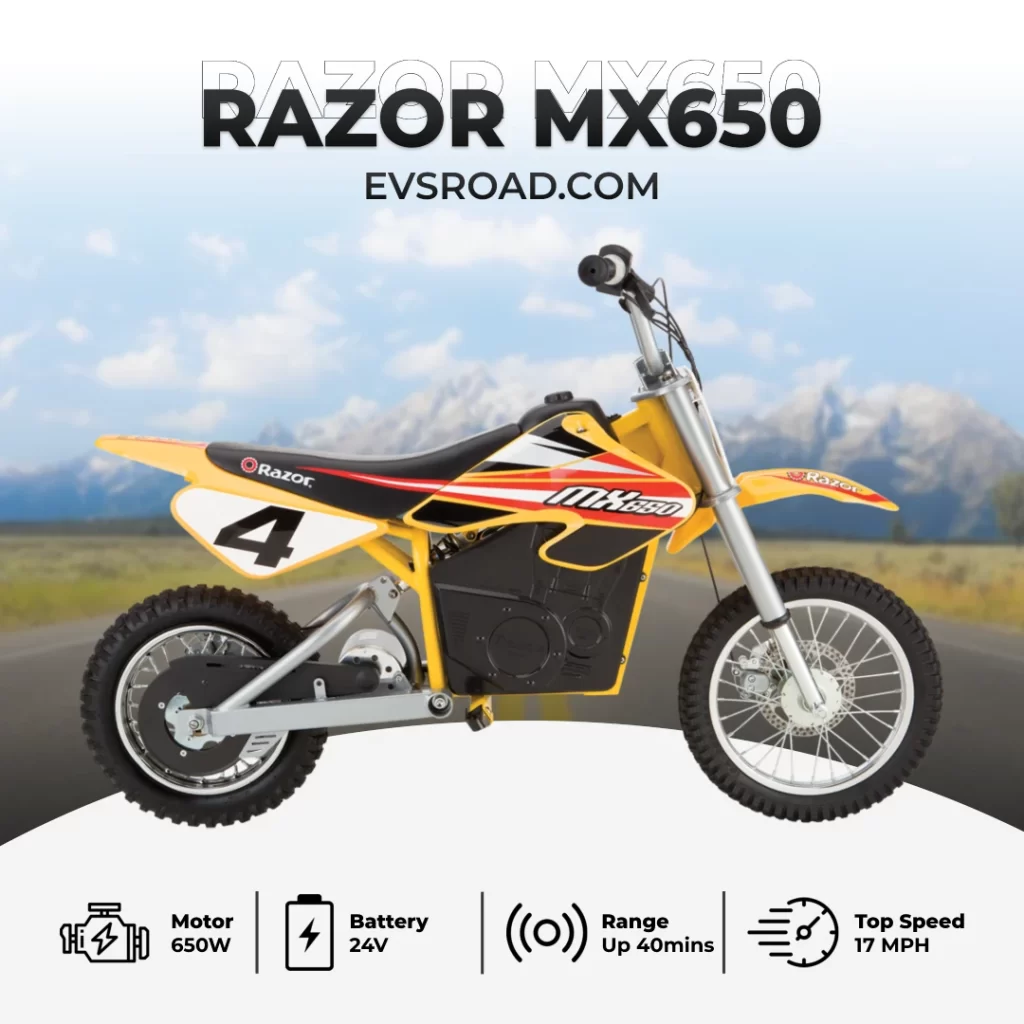 Razor MX650 is a true electric dirt bike. It has been designed after the legacy models of dirt bikes with gas-powered engines. The high shock arrangement of MX650 enables you to undertake offroad challenges. This might be the most authentic electric bike which follows the frame geometry of a dirt bike. Let's see why you should buy this electric dirt bike.
Pros
Razor MX650 has an authentic dirt bike design.
Due to elevated frame geometry, the offroad ability of this dirt bike is pretty amazing.
Razor MX650 has a load-bearing capacity of 220 lbs.
It has a top speed of 17 mph.
The dual suspension and riser handlebars ensure a comfortable ride.
Cons
The range of Razor MX650 is only 12.5 miles.
Though it is recommended for kids aged over 16 and adults but bulkier people might not find its ride particularly comfortable.
If you are a fan of Razor bikes, this is a detailed article on the best electric dirt bikes razor.
2. Himiway Zebra Electric Bike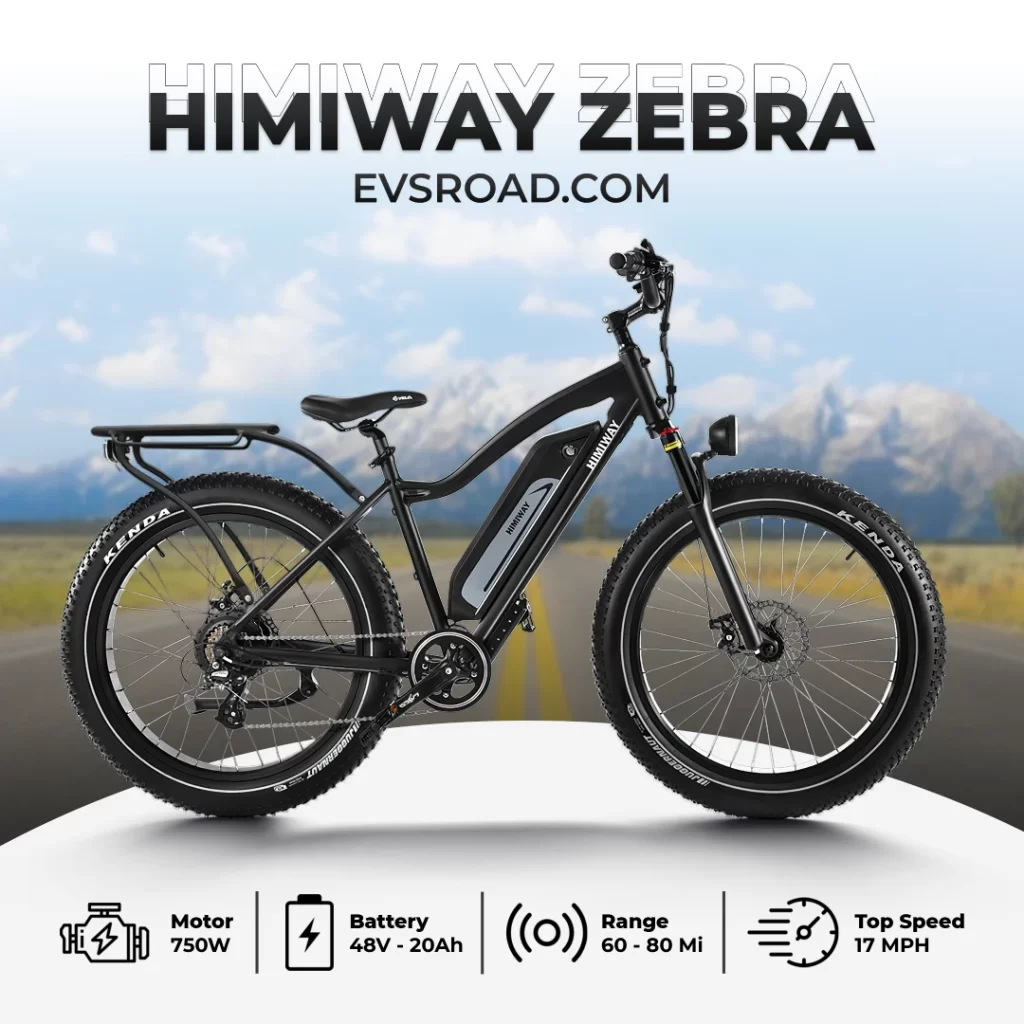 Himiway Zebra electric bike is my personal favorite and an amazing prospect in the category of electric dirt bikes. There are many things to love about this dirt bike, whether it be a powerful motor of 750 watts or a longer-than-ever range of 80 miles.
Himiway Zebra performs wonders on rough and tough terrains. Let's see why you should buy this electric dirt bike.
Pros
It has a long range of 80 miles. This is longer than most dirt bicycles on the market.
It comes with a warranty of over two years.
The offroad ability of this dirt bike is pretty amazing. On the most difficult terrains, it can tackle a slope of 40 degrees with ease.
It can carry a load of over 400 lbs. With most people weighing between 150 and 200 lbs, this gives you a loading capacity of up to 200 lbs.
It has a top speed of 25 mph.
Cons
The curb weight of this dirt bike is about 79 lbs. This is heavier than most e-bikes on the market. It is a side effect of a bigger battery pack of 48 V and 20 Ah.
This bike is one of the cheapest electric dirt bikes, you can get to know the cheapest electric dirt bikes on the market.
3. Tomofree BR100 Electric Bike for Adults
If you want a powerful electric dirt bike. You will love the Tomofree 1,200-watt fat tire dirt bike. It has an admirable range and very exciting top speed. I'm in love with the design of this bike. The way it accommodates a full suspension with antique style is truly marvelous.
There's no reason why you should regret buying this product. Still, let's analyze the pros and cons of the Tomofree electric dirt bike.
Pros
It is a capable offroad dirt bike that can tackle slopes of up to 30 degrees.
It comes with a removable battery pack that can be charged separately. While you cruise on your bike, the alternate battery pack can be charged.
The 48 V 20 Ah battery pack is equipped with fast charging capability. It can be charged in about 4-6 hours.
The bike comes with a water-proof artificial leather bag to carry your goodies while you are riding the bike.
The 20" inch tires ensure a smooth and puncture-free ride.
Dual hydraulic disc brakes ensure a safe stopping distance.
It has three driving modes and five different speed settings. You can adjust for driving offroad and regular urban commutes.
Cons
Again due to a large battery pack, the curb weight of this dirt bike is about 82 lbs. This may pose difficulty while transporting it.
KTM Freeride E-XC It is one of the best and most expensive e-dirt bikes.
4. PHILODO H8 2000W Dual-Motor Fat Tire EBike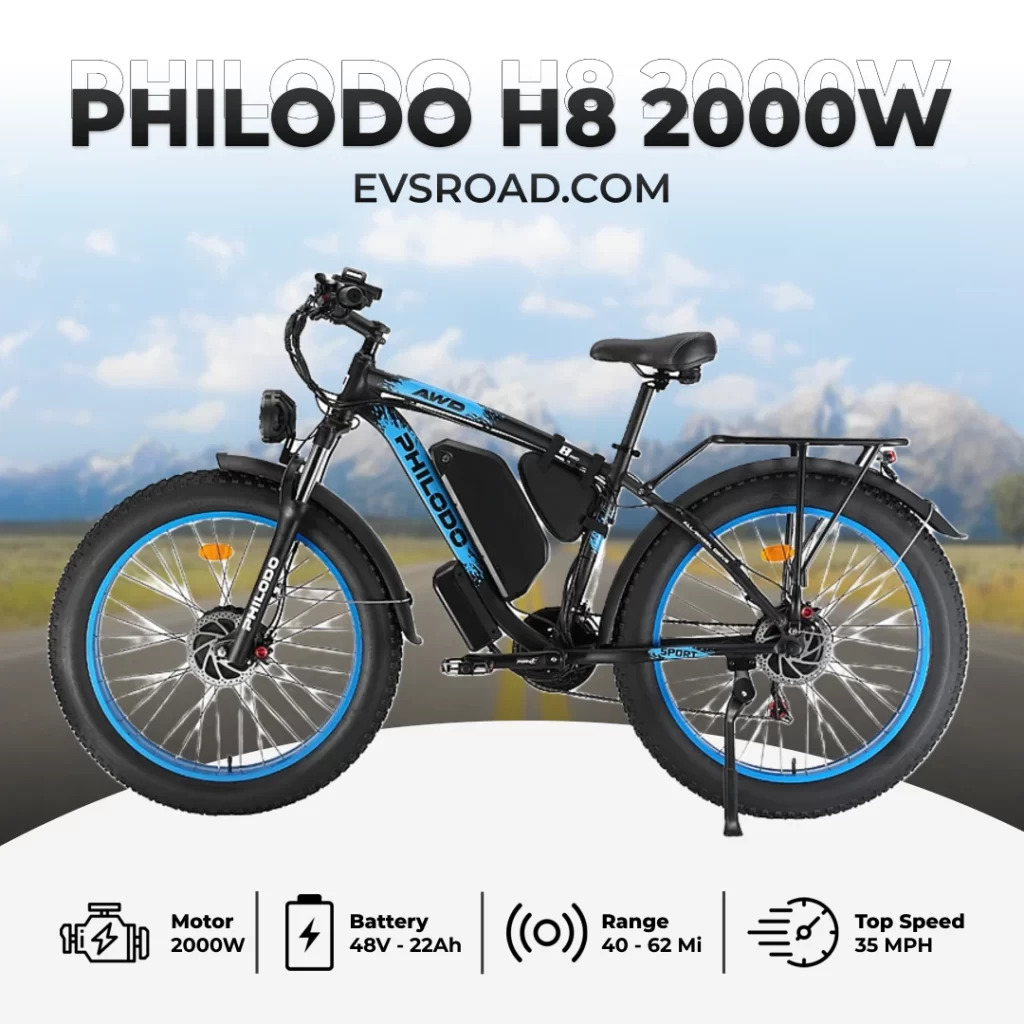 This electric dirt bike is powered by strong motors that are capable of producing over 2,000 watts. The dual-motor powered e-bike can tackle almost all kinds of terrains. The performance of the PHILODO e-bike is superb on mountainous, snowy, and muddy tracks.
This dirt bike's aluminum alloy frame helps keep it lightweight and agile. Apart from these, there are several qualities of this dirt bike. Let's have a look at those:
Pros
It is powered by two electric motors of 1,000 watts each.
It is equipped with a 21-speed gear adjustment.
It has a top speed of 35 mph.
The maximum allowable load on PHILODO is about 330 lbs. So, in addition to the rider, you can load considerable luggage on this e-bike.
It has a superb range of up to 62 miles.
The battery is removable. So, you can swap the charged battery pack with a used one.
With front and rear hydraulic brakes, you get a braking time of under 2 seconds.
It offers three different modes. Assistive drive, fully electric mode, and pedaling mode.
More than 85% of this e-bike is pre-assembled. All you have to do is ride it.
It has a smart LCD display on the front bar. It shows the driving mode, speed, remaining battery charge, and distance readings.
Cons
The heavy battery pack of 48 V and 22 Ah gives this dirt bike a curb weight of over 96 lbs. Due to this heavy weight, transportation isn't easy.
There are as many downsides to having a large battery pack as there are benefits. The large battery of PHILODO takes at least 10 hours to charge.
Users have complained that the bike wobbles a little upon braking.
5. Viribus 500W Fat Tire Electric Bike for Adults
All we have done is smash you with exotic options in the electric dirt bike category. All other bikes listed above are priced from $1,500 to $2,000. However, if you're looking for more affordable options, then consider Viribus 500-watt electric dirt bike. You can buy this dirt bike only at a price of $899, which is truly amazing if you consider all its features.
It has a very modern outlook. With the bare minimum features, this model is best for anyone who is looking for a starter pack. Despite being offered at an affordable price, Viribus Fat Tire Electric Bike is a capable off-roader. To better understand why this electric dirt bike might be best for you, let's discuss its features.
Pros
It has an admirable driving range of up to 30 miles on a single charge.
It has a respectable performance on the offroad track. Viribus can tackle a slope of 30 degrees with ease.
Viribus can handle a load of 330 lbs. This means you, along with the rider, there is considerable room for carrying the luggage.
It is equipped with a 36 V 12.5 Ah battery pack which can be recharged from 0-100% in less than 5 hours.
The top speed of this electric bike has been capped at 20 mph to make it street-legal in most countries.
You can choose between 5 different speed settings offered in urban driving mode.
Viribus is equipped with dual disc brakes and a fork suspension.
While in mountain driving mode, you get 21 different speed options.
There is an LCD display on the handlebar. It displays the battery life, speed, PAS status, and trip and total distance at a glance.
Cons
The structural integrity of this dirt bike can be improved.
The braking performance of Viribus isn't that great.
Although the bike is 75% pre-assembled, you might need some help assembling it.
If you do not find what you are looking for in this article, I invite you to look at the best electric dirt bikes by MotoTec.
Final Word, Best Electric Dirt Bikes for Adults
Combining an electric drivetrain and a dirt bike was a tough challenge. But automakers have stood up to this task. Thanks to the progress in research and development, we have some of the best electric dirt bikes for adults. The electric dirt bikes listed in this article have an admirable range and impressive terrain-tackling skills.
The only problem I see is the lack of charging infrastructure. This is where major global players in the EV segment should come together. The number of charging stations for the urban population is increasing. But there are very few charging points on off-road tracks.
See, the thing is that most off-road tracks are 20-30 miles away from the city area. If you were to travel on your dirt bike to those tracks, it would run out of juice before even the track starts. So, to make the idea of electric dirt bikes truly viable, we must build the charging infrastructure.
With this, we conclude our article on the best e-dirt bikes for adults. I hope you liked the options listed in this article. Have you used any of the electric dirt bikes listed above? Do let us know in the comments below. We would love to hear from you guys.
After purchasing your favorite electric dirt bike, you will definitely need its helmet and goggles to start your adventure, this article helps you choose the best electric dirt bike helmets with goggles.