There are no less than 1 million electric scooters in operation around the globe. According to Berg Insight, this number is expected to rise to 5 million by the end of 2024. And why not. Electric scooters are a great way of commuting. They are cheap to operate and come with minimum maintenance. On top of that, you can even choose to share your e-scooter with others.
The electric scooter will heavily reduce our dependence on cars and other conventional modes of transportation. Plus, it will also help us to realize the zero-emission goal sooner. As electric scooters are becoming popular, we see them entering other sectors of the auto market.
One such sector is off-road bikes. E-scooters have been able to partially capture this segment as they have disrupted the sales of gas-powered cars. Now, you can find a capable electric scooter for off-road and urban commutes. We bring the best electric scooters for off-roading.
This article will focus on the features and specifications of your favorite off-road scooters. We will see why these scooters are the best option for you. So, without further ado, let's get started!
Best E Scooters Off Road for Adults in 2023
1. LAOTIE ES 19 Electric Scooter Adults with Steering Damper
LAOTIE ES19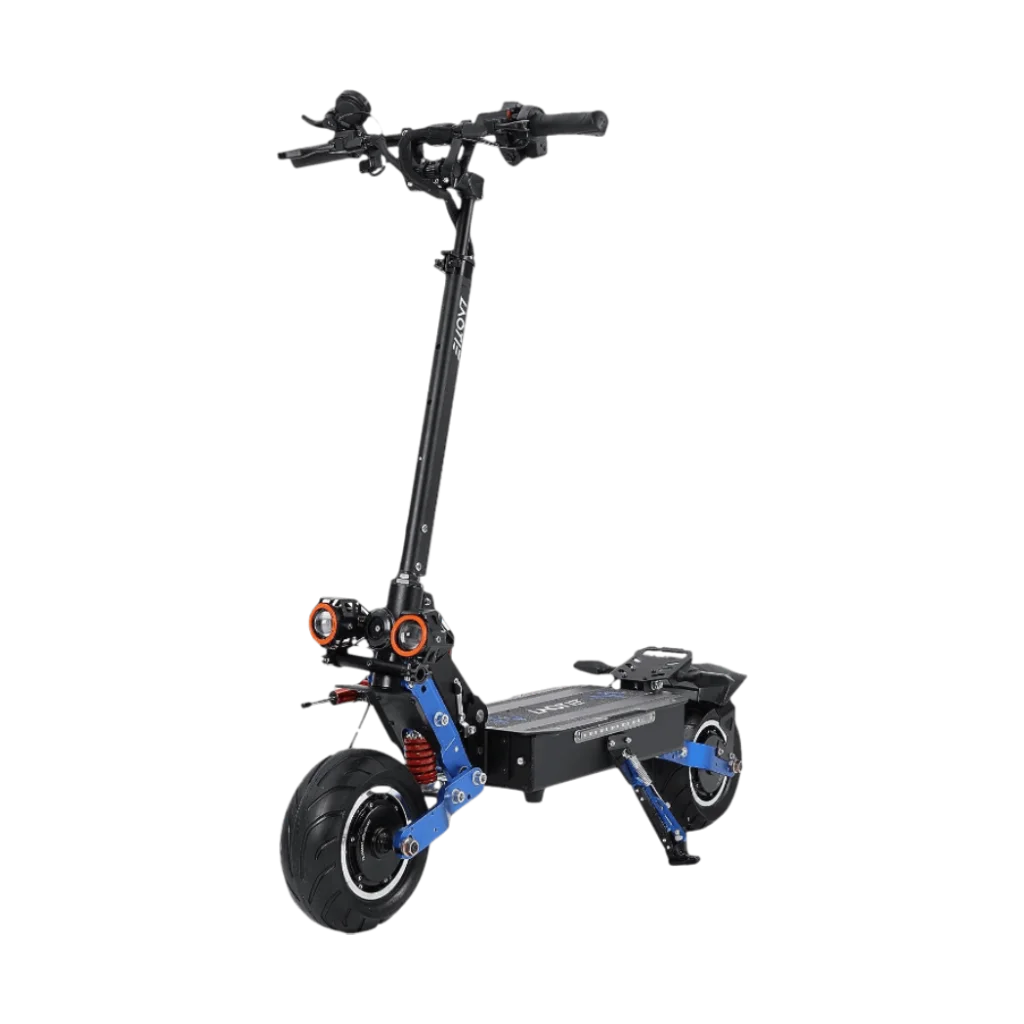 $1,700.00
Top Speed: 62 mph
Range: 84 miles
Motor: 2x 3000w
Weight: 115 lbs
Load: 440 lbs
If you are looking for an off-road electric scooter, then look no further than Laotie ES 19. The design of the scooter itself says a lot. You see and fall in love with it. ES 19 has got a very sporty look. The shock absorbers and dampers are strategically placed on the front and rear. With super-powerful motors producing over 6,000 watts and a climbing angle of 50 degrees, there is hardly anything this bike cannot do.
Why We Love This Product:
It has a phenomenal range of up to 84 miles. This is by far the best electric range for any e-scooter on the market right now.
It is powered by two capable motors churning out 3,000 watts each, which brings the total power output to 6,000 watts.
Thanks to the powerful motors, the top speed of ES 19 is 63 mph. But it can be limited up to 15 mph using a speed limiter to make it street legal.
To enhance your off-road experience, it can climb up a slope of 50 degrees.
The scooter is laced with fast charging capability. You can recharge the batteries in 5 hours.
It comes with a dual suspension system to aid off-road riding.
Oil brakes and EABS ensure that the 62 mph joy ride ends safely.
It has a maximum load-bearing capacity of 440 lbs. This means even two people can ride ES 19 at a time.
The brake light system of the ES 19 ensures safe riding during nighttime.
2. TIFGALOP Electric Scooter Off Road Tires
TIFGALOP T88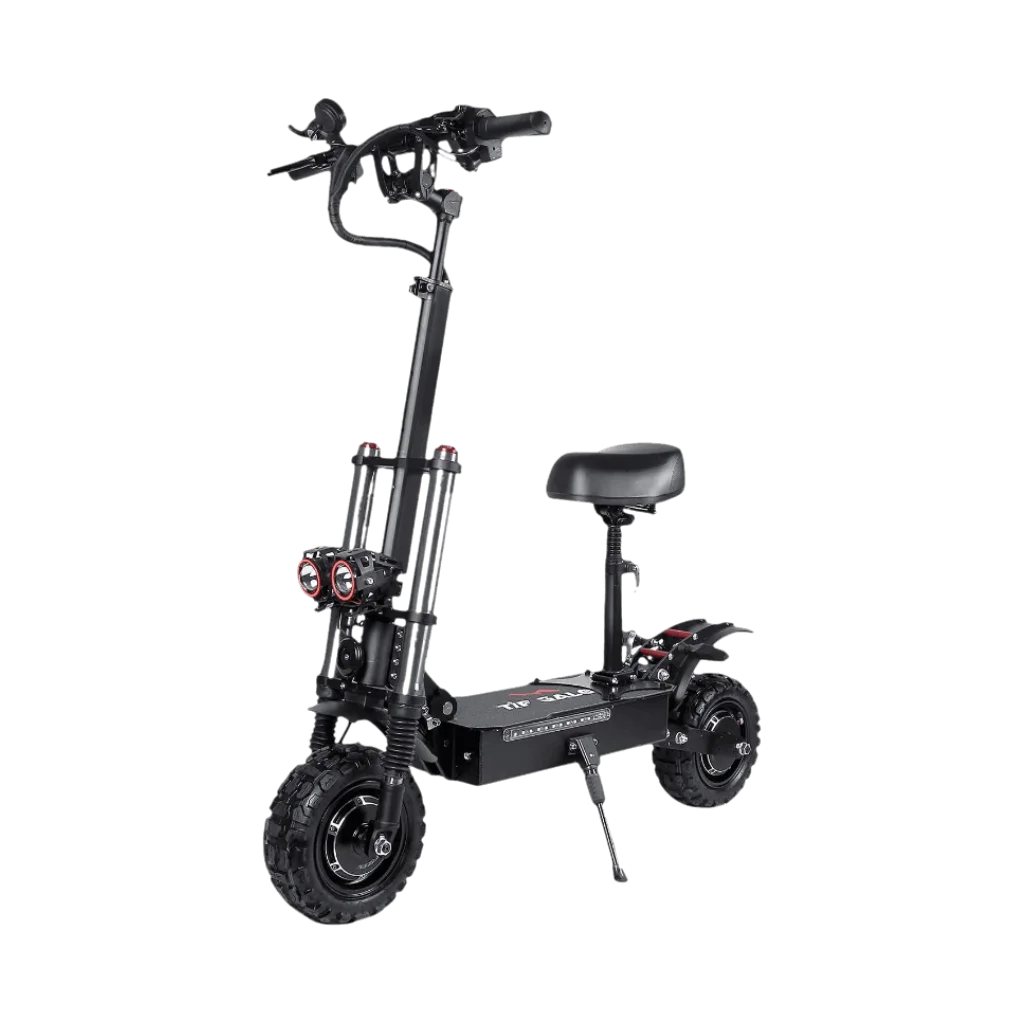 $1,499.00
Top Speed: 50 mph
Range: 45 miles
Motor: 2x 2800w
Weight: 81.6 lbs
Load: 440 lbs
Next up, we have another great option for you guys. Tifgalop isn't far behind the Laotie ES 19, whether it be range, top speed, or motor power. Tifgalop T88 is an engineering marvel on its own. If you just see the front end of this bike, it would look like a Harley Davidson to you. T88 has an extremely rugged look. Plus, the tires give you all the confidence in the world that the T88 can handle almost any kind of terrain.
Why We Love This Product:
It is powered by strong dual motors producing 2,800 watts each. This brings the total output of this scooter up to 5,600 watts.
It can endure a load of up to 550 lbs which is amazing for an e-scooter.
11-inch tires are there to support your offroad ventures.
It can achieve a top speed of 50 mph.
T 88 can go as far as 60 miles on a single charge.
It comes with two chargers and two free pairs of replacement brake pads.
Dual dynamic headlights on the front show you the way ahead on dark nights.
The double-oil brakes can safely bring your roller coaster ride to an end.
The design is easily portable, and the scooter can be folded to carry around.
More Articles:
3. JOYOR S10-S Electric Scooter Off-Road Tires
JOYOR S10-S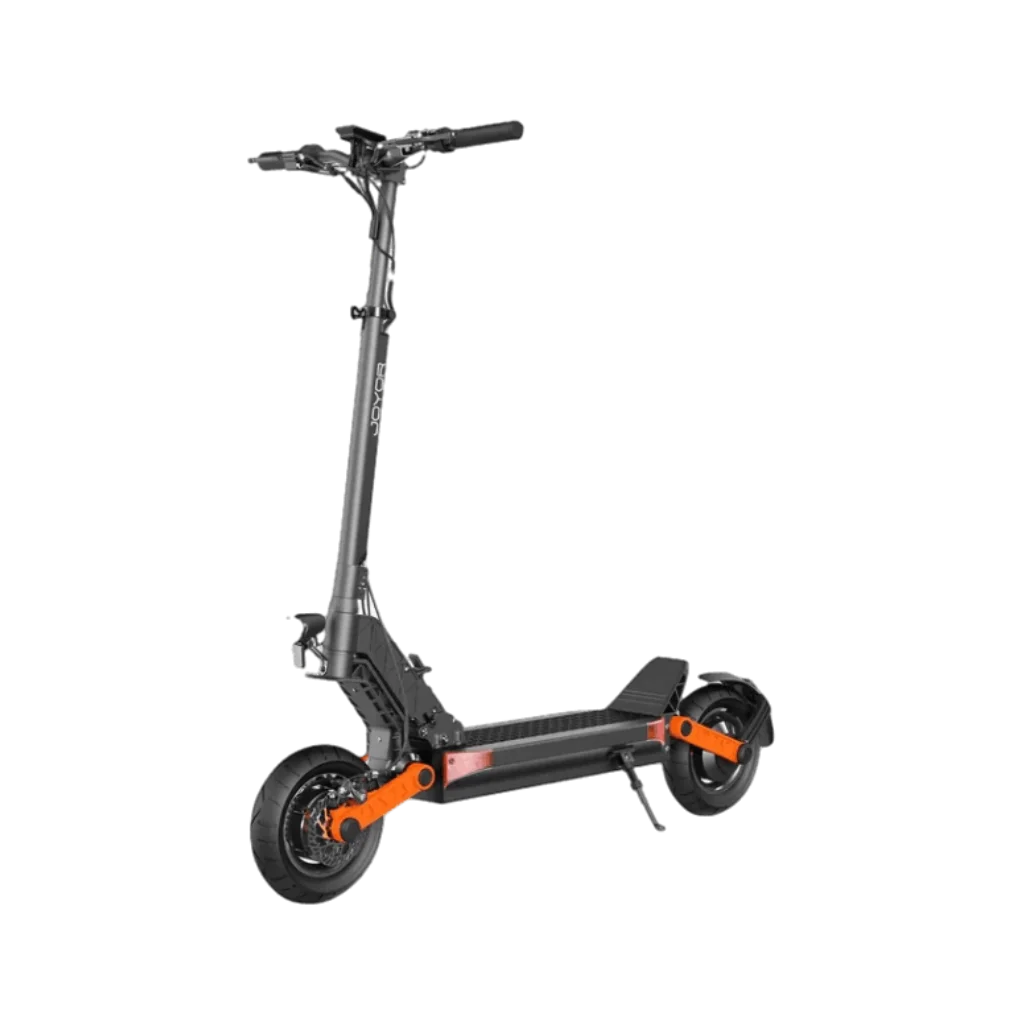 $1,299.00
Top Speed: 40.3 mph
Range: 52.8 miles
Motor: 2x 1000w
Weight: 59.5 lbs
Load: 265 lbs
Joyor S10-S is an ordinary-looking e-scooter, but it will certainly surprise you on an offroad track. The body of the S10 electric scooter is crafted from high-grade aluminum. This gives the agility and flexibility you need in an off-road electric scooter.
Why We Love This Product:
It is powered by dual motors producing over a 1,000-watt. These motors are capable of carrying this scooter to a top speed of 40.4 mph.
It can climb up a slope of 30 degrees with ease.
The battery pack of 1,080 Wh can give you a maximum range of 53 miles.
S10 comes with the standard 10-inch tires of the S series. These are enough to ensure that S10 can tackle any kind of rough, muddy, and rocky terrain.
The response time of the hydraulic brake system is amazing.
The design of the S10 is very convenient. You can easily fold it and carry it in the car trunk.
4. Recherclie Snow Electric Kick Scooter for Adults
RECHERCLIE SNOW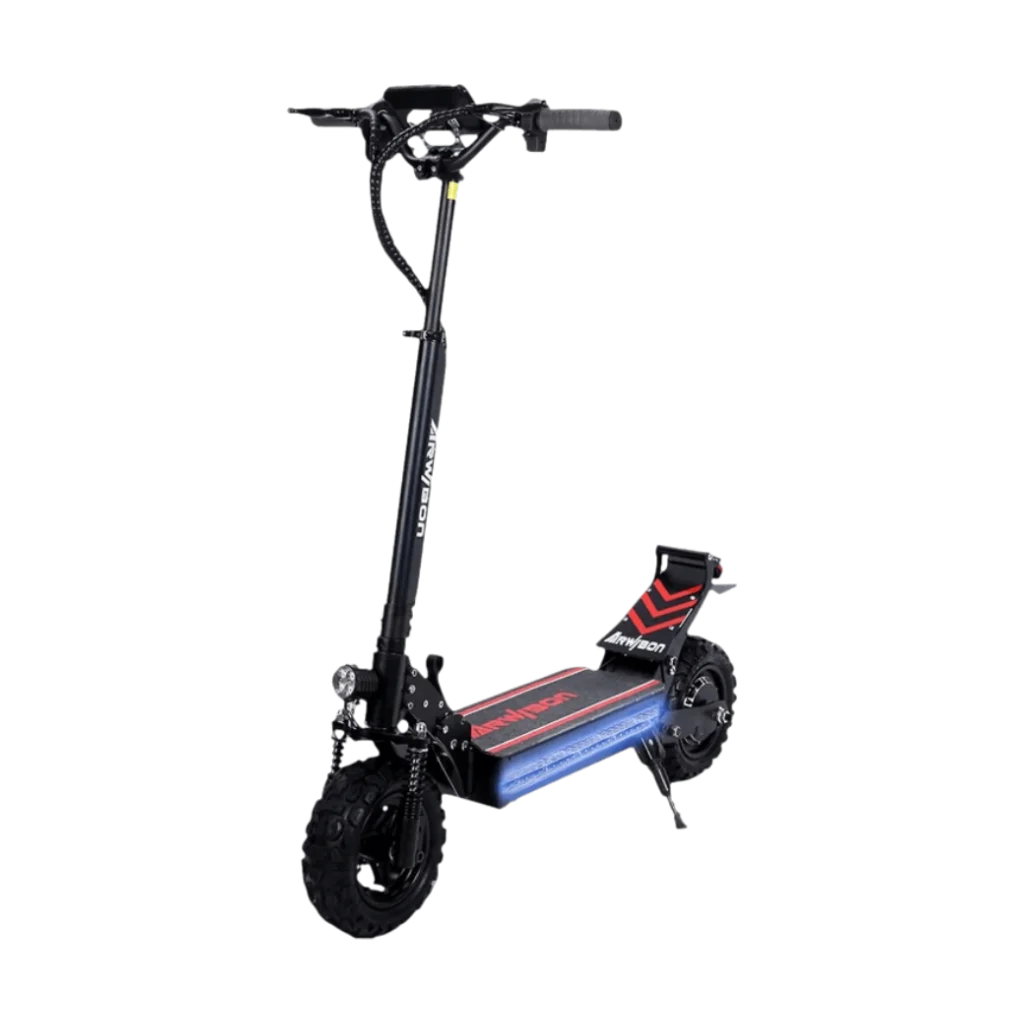 $949.00
Top Speed: 35 mph
Range: 37 miles
Motor: 2500w
Weight: 77 lbs
Load: 550 lbs
Q30 Recherclie Snow Electric Kick Scooter is an amazing option if you're looking for off-road electric scooters. It is strong, powerful, and aesthetically pleasing, all at the same time. The 11-inch heavy-duty vacuum tires are perfect for off-roading. The tires give a very sporty look to Q30.
Why We Love This Product:
It is powered by a strong 2,500-watt motor. With this, you can easily climb up a slope of up to 15 degrees and achieve a respectable top speed of 19 mph.
The 780 Wh battery pack of Q30 can take you as far as 37 miles on a single charge.
It comes with a fast charger that can rejuice your batteries in less than 6 hours.
The braking is something to love about Q30. It uses a combo of hydraulic disc brakes of 160 mm and EABS to ensure your safety.
It is very easy to put together. Q30 can be assembled in about 5 minutes or less.
It comes with two free pairs of brake pads.
5. Razor RX200 Electric Off-Road Scooter
How is it possible to make a list of e-scooters and have no Razor product in it? RX200 is a very sleek and smart-looking electric scooter. I personally would never have recommended this e-scooter for off-roading just by looking at it. But Razor is advertising it as an offroad capable electric scooter, so why not. There is one thing about Razor products they deliver as promised. one thing I'd like to mention. It is that this scooter isn't for any serious off-roading, but yeah, you can buy it to deal with some dirt roads.
Why We Love This Product:
The item weighs less than 40 lbs, so you can easily carry it around.
With the special chain-driven motor for high-torque usage, you can achieve a top speed of up to 12 mph with ease.
Rear disc brakes will give you the necessary stopping power.
RX 200 comes with heavy-duty alloy wheels so that you can traverse through the most difficult of terrains.
The non-slip deck of RX 200 is very convenient to stand on.
Final Word, Find The Best Electric Scooter Off-Road
Off-roading is a popular sport all across the world. Some people are crazy about it. With all the buzz around turning to electric power, even the off-road and dirt bike manufacturers are thinking of making the shift. And rightly so because electric is the way forward.
One great substitute has been found in the form of off-road electric scooters. E-scooters are not only fun to drive, but they also present a greener alternative to dirt bikes powered by conventional fuels. We've covered some of the best off-road electric scooters in this article.
All of the products listed in this article can be found on Amazon. I've attached the links, so you don't have to worry about finding the right product for you. I hope that you like the products listed in this article. Do let us know if you have been using any of the products listed here.
We would love to hear your reviews about it. Plus, if you have any other options in the category of off-road electric scooters, then share them with us.