8 out of 10 electric car owners prefer to charge their vehicles at home rather than at a commercial charging station. The main reason behind this is the comfort, luxury of no time constraint, and comparatively low costs.
More and more people will be charging their electric cars at home in the future. Because the gap between the number of electric vehicles and fast charging stations is going to widen quickly.
With the rapid pace at which people are buying electric cars, the fast-charging infrastructure is not growing at the same speed. So, more people will prefer to charge their EVs at home.
Keeping this in mind, most automakers are trying to fast home chargers along with their cars. But many of those are really slow and take a huge amount of time to charge your vehicle.
So, to make things easier for you, we have listed the 7 best electric car chargers for home. All these chargers are available on Amazon.
Let's get right into it!
1. ChargePoint Home Flex Electric Vehicle (EV) Charger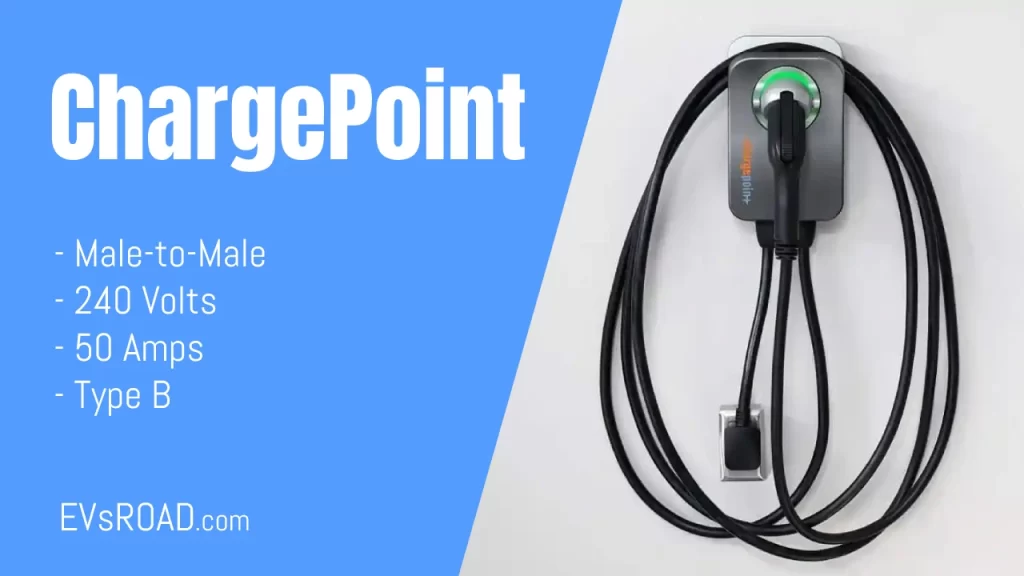 Home Flex EV Charger by ChargePoint is an extremely remarkable product. It is capable of charging your EV almost 9 times faster as compared to a normal wall outlet. You can choose between the flexible amperage setting of 16, 24, 32, 40, 48, and 50 amps.
The best part about this home charger is its app. The working and connectivity of the app are very smooth. You can schedule the time to charge the car using the app. Plus, the app would also calculate the cost of charging for you using the local electric unit rates.
You may find this home charger a bit expensive as it is priced at $709 on Amazon. But it is worth every cent. You will not regret buying this product.
Pros
9x faster-charging
Works with all cars
Excellent for outdoor use
Great value for money
Amazing app
Easy installation
Smooth operation
Cons
Slightly short charging cord
2. JuiceBox 40 Smart Electric Vehicle (EV) Charging Station with WiFi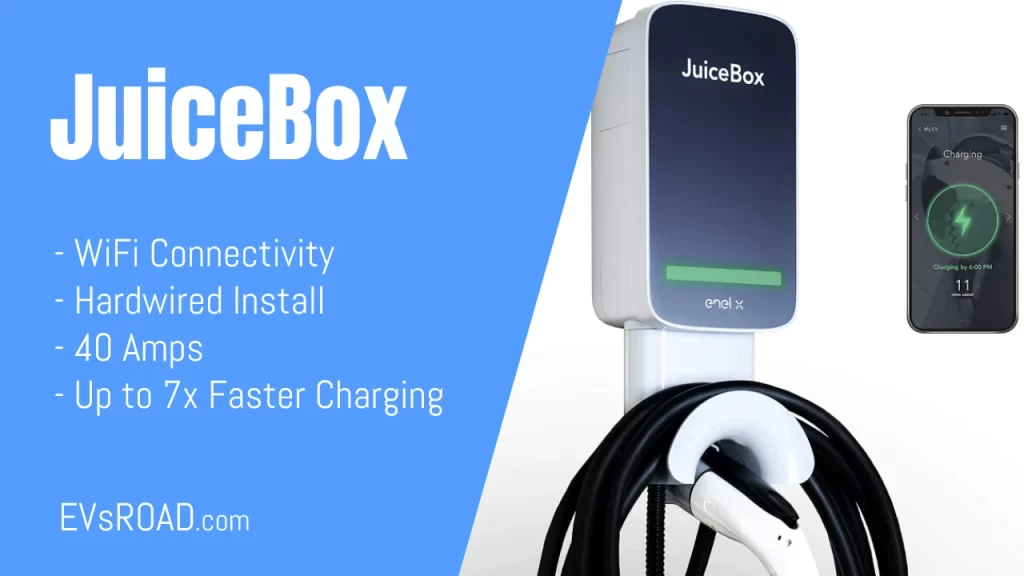 #1 best seller on Amazon is the JuiceBox 40 Smart Electric Vehicle Charging Station. It is a great option if you are looking for home EV chargers. The fast-charging version of this product can be purchased for $816. This is slightly higher, but the quality of the charger justifies the higher price tag.
Plus, if you're living in certain states of the US, chances are that you might be able to get a rebate on this charger. As many states are providing subsidies on home EV chargers with smart features.
It is built on the universal J1772 charging standards. Dynamic LED lights on the JuiceBox charger will show you the real-time charging status. In addition to that, you can control this EV charger with voice commands using Amazon Echo or Alexa.
Pros
7x faster charging
Compatible with most cars
WiFi-enabled
Easy to install
Cons
WiFi connectivity issues
Annoying high-pitched whine when it is charging
A bit expensive
3. Lectron NEMA 5-15 Level 1 EV Charger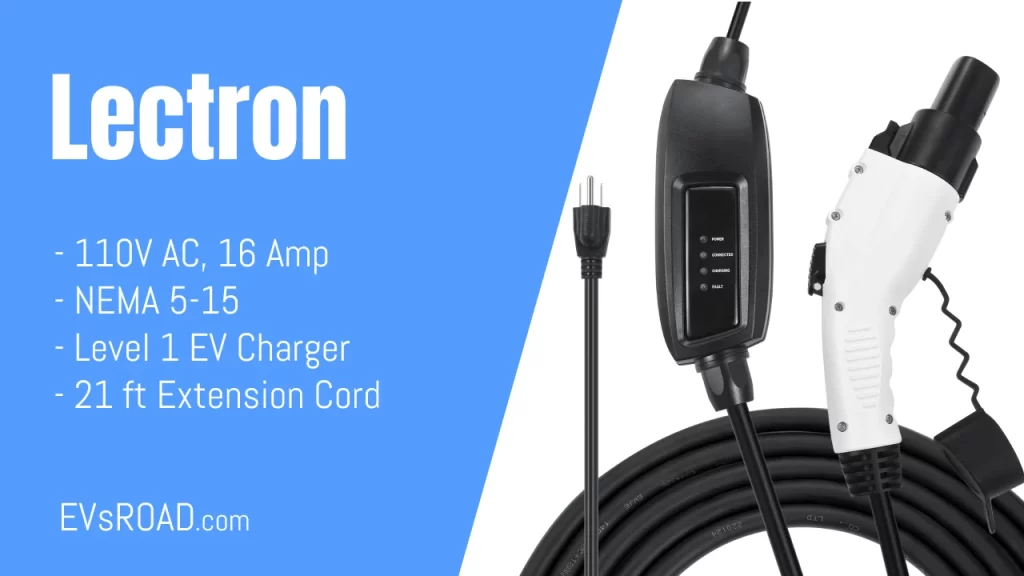 Lectron NEMA 5-15 Level 1 EV Charger is a great product for hassle-free EV charging at home. You can charge almost any electric car or PHEV using this home charger. As advertised, this home charger is only capable of level 1 charging.
Although a level 2 charger will be much faster than this, many people don't have access to 240-volt outlets in their driveways and garages. If that's the case with you, then you will not find a better product than this. This is out of stock at Amazon, but hopefully will be back soon.
It is way faster than the Tesla level 1 home charger, which also happens to be its top competitor. You should always keep this charger as a backup in your car. Because you never know if you will get stuck in a remote location where only level 1 outlets are available.
Pros
Compatible with most cars
Faster than company-provided level one charger
Sturdy and solid build
Affordable
Cons
Difficulty while plugging in
4. Schumacher SC1455 Level 1 and Level 2 Portable EV Charger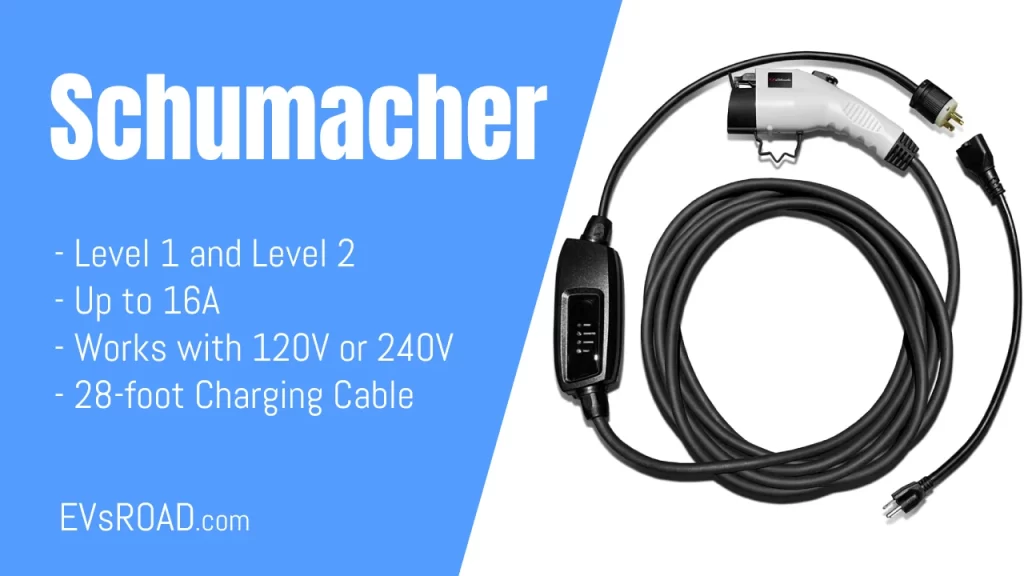 Schumacher SC1455 Level 1 and Level 2 Portable EV Charger is compatible with 240V NEMA 6-20 plugs and standard 120V NEMA 5-15 plugs. It is one of the most affordable electric car chargers on the market. You can buy it for only $199.99 on Amazon.
Schumacher portable EV charger features a convenient and flexible design. The rubber handle grip is easy to use and enhances the safety of this charger. The length of this charger is 28 ft, including the adapter. Though some people faced the connection issue, overall, this is an amazing product.
Pros
3x faster charging
Longer charging cable
A universal connector that fits almost all cars
Great quality
5. VEVOR Level 2 EV Charger, 32 Amp 110-240V, Portable Electric Vehicle Charger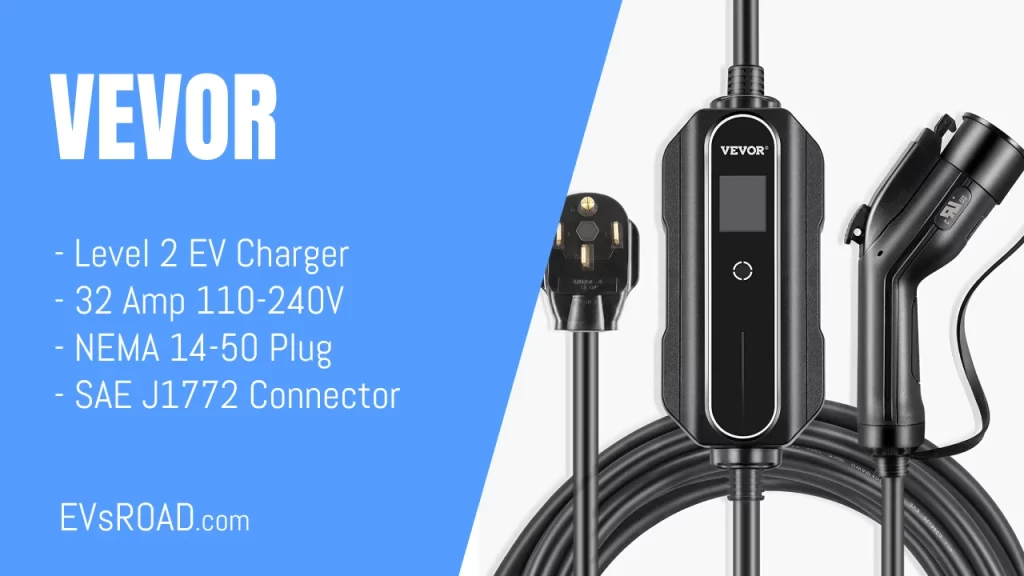 Another great yet affordable home charger available on the market is the VEVOR Level 2 EV Charger. This product is priced at $224.16 on Amazon. Unlike most other level 2 chargers that are going to cost you in excess of $500.
The company claims that this charger can charge your EV 8 times faster as compared to a regular level 1 charger at 8 amps power outlet. But the power output of the VEVOR charger is capped at 7.64 kW. So, in real life, it would be able to charge only 2-3 times faster.
Still, it is a great product at an affordable price. You can use it with almost any electric car as it is built on the SAE J1772 standard.
Pros
Creative LED screen
Easy to use
8x faster charging
Fits almost all cars
Great value for money
Cons
Difficult to switch between 110 and 240 Volts
6. BESENERGY 32 Amp EV Charger Level 2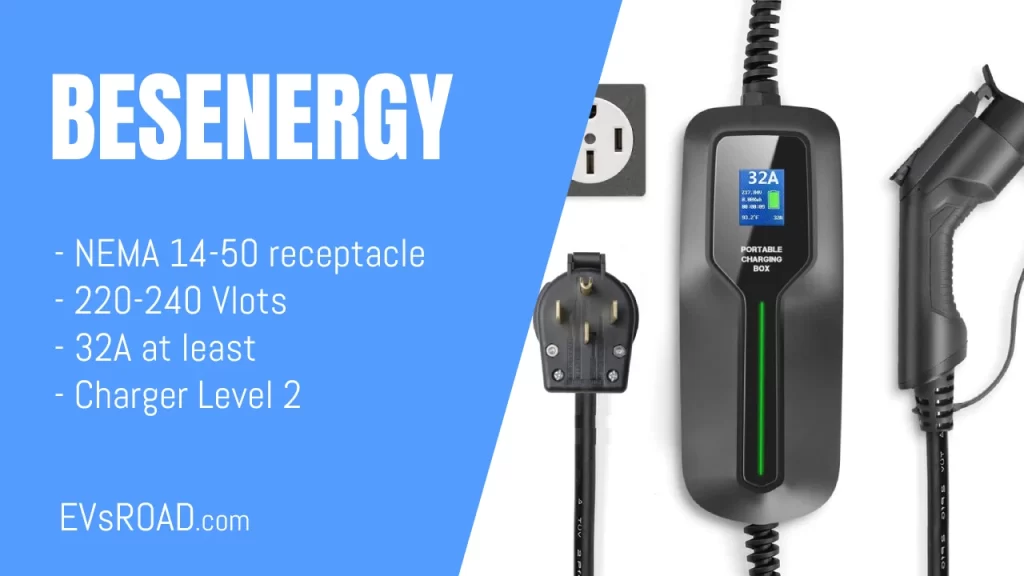 BESENERGY Level 2 EV charger can add 26 miles of range to your car every hour. It is 5-6 times faster than the level 1 home chargers often provided by the automakers.
The modern LED display of the charger shows all the necessary information, such as real-time current, real-time voltage, charging amount, charging time, temperature, charging status, maximum charging current, and rated current.
It comes with a standard NEMA14-50 plug. In addition to that, it features an IP 66 dustproof and waterproof TPU charging cable that is perfect for both outdoor and indoor use.
BESENERGY Level 2 EV charger is a great product for your money because it is difficult to find a quality level 2 EV charger at its price. You can buy it only for $329.
Pros
6x faster charging
Convenient display screen
Easy to use
Fits almost all cars
Cons
Low-quality mounting holes
Bit short cord length
7. PRIMECOM Level 2 Electric Vehicle (EV) Charger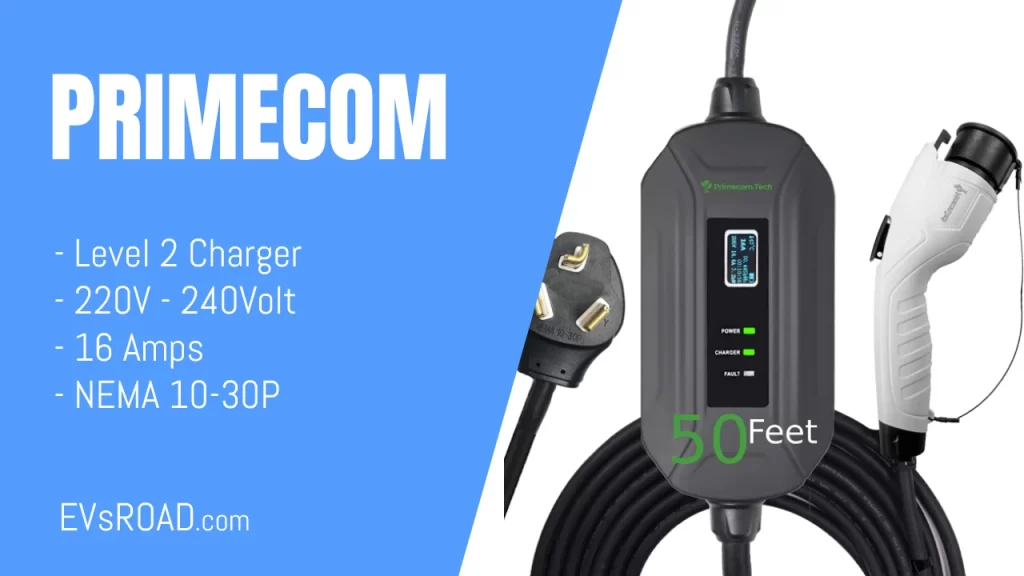 PRIMECOM is a great product overall, but you would surely love its extra-long charging cord. It is available in 3 different cord sizes 30, 40, and 50 feet. The 50 feet size cord is perfect for people with long driveways or people who don't have access to charging outlets nearby.
You can buy it on Amazon for $479. Keep in mind that you might have to pay extra for the longer cords. As a charger, it is slightly slower than most level chargers available on the market. It only adds 15-20 miles of range per hour to your electric car.
But the universal compatibility and extra-long cord length make it a lucrative product.
Pros
Universal compatibility with all models
Fast charging
Waterproof
Long cord length
Final Word, 7 Best Electric Car Chargers for Home
We've listed down the 7 best electric car chargers for home in this article. In addition to that, we have also mentioned the pros and cons of each home charger to make the choice easier for you.
There are a few factors that you must keep in mind before buying a home charger. Some of them are voltage, current, and power rating. Other than that, watch out for things like WiFi, smart functions, cord length, and insulation quality.
Many companies are trying to sell their own home chargers nowadays. You can have a look at those options as well and choose what is best for your car. We hope this article was helpful and you found some useful home chargers from here.
Have you used any of the products mentioned above? How was your experience with home chargers? Do let us know in the comment section down below. We would love to hear from you!