Bugatti Chiron Super Sport currently holds the record for the fastest car in the world. It breached the 304 mph mark at the Volkswagen's Ehra-Lessien test race track. It is powered by a 1,600 hp mega-engine.
As companies race to produce the fastest gas-powered cars many are skeptical about the speeding abilities of electric cars. Unlike fuel-powered cars, EVs don't have an engine. Rather they're powered by motors that run on batteries.
Electric cars have amazing accelerations as there is no lag in the transmission of power. But how fast can an EV go? It would be interesting to see that.
This article will list down the 7 fastest electric cars in the world right now. Let's get started!
| | | | | |
| --- | --- | --- | --- | --- |
| Manufacturer | Model | Top Speed (mph) | 0-60 mph Time (s) | Starting Price |
| Rimac | Nevera | 258 | 1.85 | $ 2,050,000 |
| Tesla | Roadster | 250 | 1.90 | $ 250,000 |
| Lucid | Air | 235 | 2.00 | $ 250,000 |
| Lotus | Evija | 217 | 2.80 | $ 2,300,000 |
| Tesla | Model S Plaid | 200 | 1.99 | $ 137,440 |
| Tesla | Model X Plaid | 164 | 2.10 | $ 140,440 |
| Porsche | Taycan Turbo S | 162 | 2.40 | $ 188,850 |
1. Rimac Nevera – 258 mph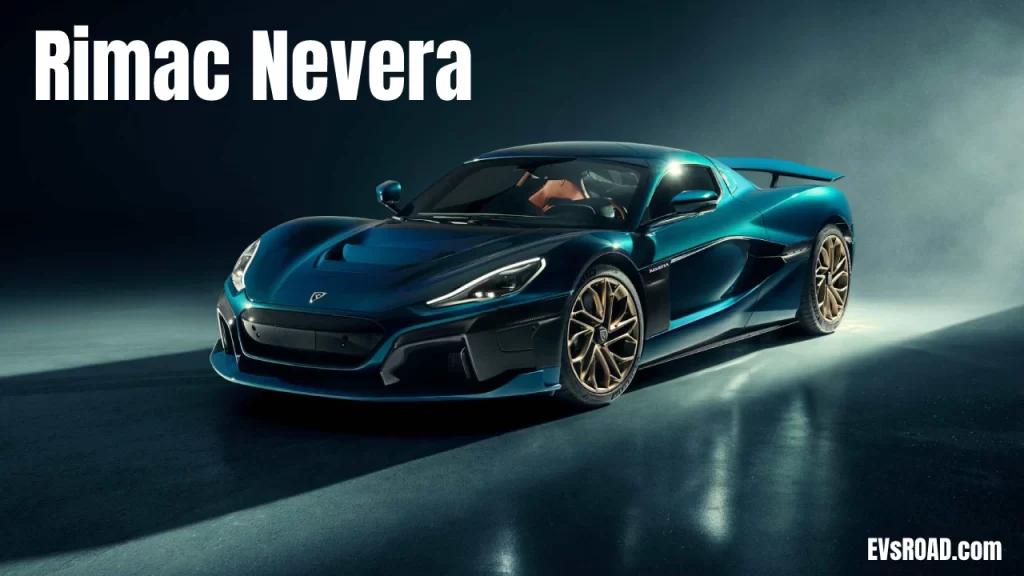 Just recently we've received the amazing news that Rimac Nevera is now officially the fastest EV in the world. It has achieved a top speed of 258 mph. You can truly say that this car is the Bugatti Chiron of electric vehicles.
Rimac Nevera is powered by 4 carbon-sleeved permanent-magnet AC synchronous motors. Every wheel gets one motor. Each motor on the rear produces an output of 644 hp at 664 lb-ft torque. While two motors on the front get a combined output of 590 hp.
This brings the total power output of this beast up to 1,813 hp. It is even more than the power output of Bugatti Chiron Super Sport. One-speed direct drive transmission of Nevera ensures that almost all of this power is transferred to the wheels.
0-60 mph and quarter mile stats of Rimac Nevera are out of this world. It can cross the speed of 60 mph in about 1.85 seconds and cover the distance of a quarter mile in 8.6 seconds.
Rimac Nevera has truly set a new benchmark for all the upcoming EVs. As you would expect the price of this car is exuberantly high. It starts at $2,050,000!
2. Tesla Roadster – 250 mph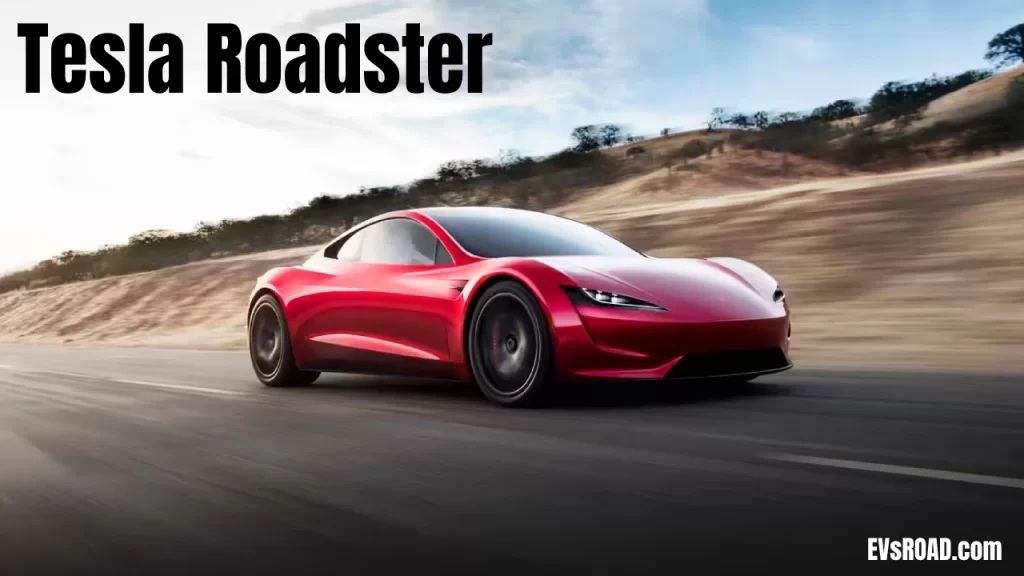 Though Tesla Roadster hasn't been officially tested, Tesla has claimed that it could breach the 250 mph mark with ease. This would put it at number 2 spot in our list. We believe the claims about this car because Elon Musk said it himself.
In November 2017 when he unveiled the concept of this car it was revealed that Roadster would have 0-60 mph score of 1.9 seconds. In addition to that, it could cover a quarter mile in 8.8 seconds. Just a tad bit behind the stats of Rimac Nevera.
What makes this car a really amazing prospect is that its pricing is expected to start at around $250,000. While it might seem like a lot but compare to the price of some other cars on this list it is nothing. Statistically, Tesla Roadster isn't far behind Nevera but it has a 10 x lesser price.
3. Lucid Air – 235 mph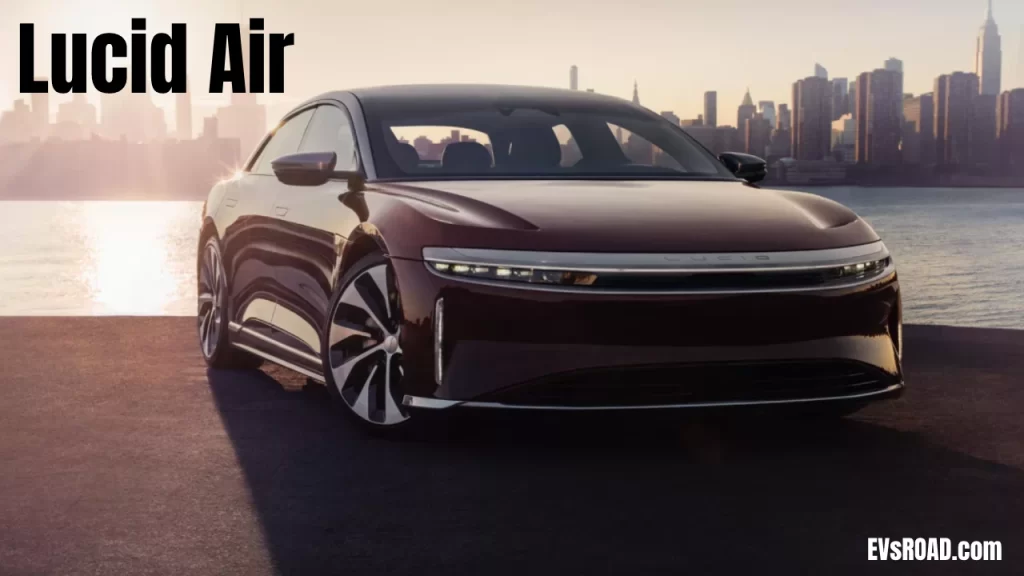 Officially the top speed of Lucid Air is limited at 200 mph to make it street-legal. But recent runs on test tracks have revealed that 2023 Lucid Air can go as fast as 235 mph. The best part about this EV is the ridiculously low starting price which is set at $89,050.
Although the fastest trims start at $250,000 and above, we expect the base version to have blistering acceleration as well. Lucid Air boasts an admirable time of under 2 seconds to cross the 60 mph mark.
The top model of Lucid Air is powered by three electric motors. Two motors power the front wheels while an additional motor is placed at the rear. The combined power output of these motor is around 1,200 horsepower.
Air also features a 112.0 kWh battery pack. It can be recharged up to 70% in less than 20 minutes at a DC fast charging station.
4. Lotus Evija – 217 mph
Yet another supercar on our list is the Lotus Evija. Evija is claimed to be the fastest lotus ever made. With an official top speed of 200 mph, Evija reached new heights by clicking the speedometer at 217 mph.
Lotus Evija is powered by four electric motors that can produce a combined output of 1,972 hp at 1,254 lb-ft torque. Despite getting a beast-like powertrain, the acceleration stats of Evija aren't that impressive. As it takes 2.8 seconds to reach a speed of 60 mph.
We assume that it is because the aerodynamic design and transmission system of Evija is still in very raw form. Once these issues are resolved Evija truly has the potential of becoming the fastest electric car in the world. Since it has the most powerful motor to date.
Even the curb weight of this car is kept extremely low at 3,700 lbs. This makes it one of the lightest electric supercars ever. This is significant because EVs have a prominent weight of batteries. So, to keep the weight this low is really admirable.
While there are tons of reasons to love this car, in reality, we could never afford it. Its starting price is estimated to be $2,300,000. This also makes it the most expensive EV hypercar on our list. Only 130 units of Lotus Evija will be produced which also makes it a rare beauty.
5. Tesla Model S Plaid – 200 mph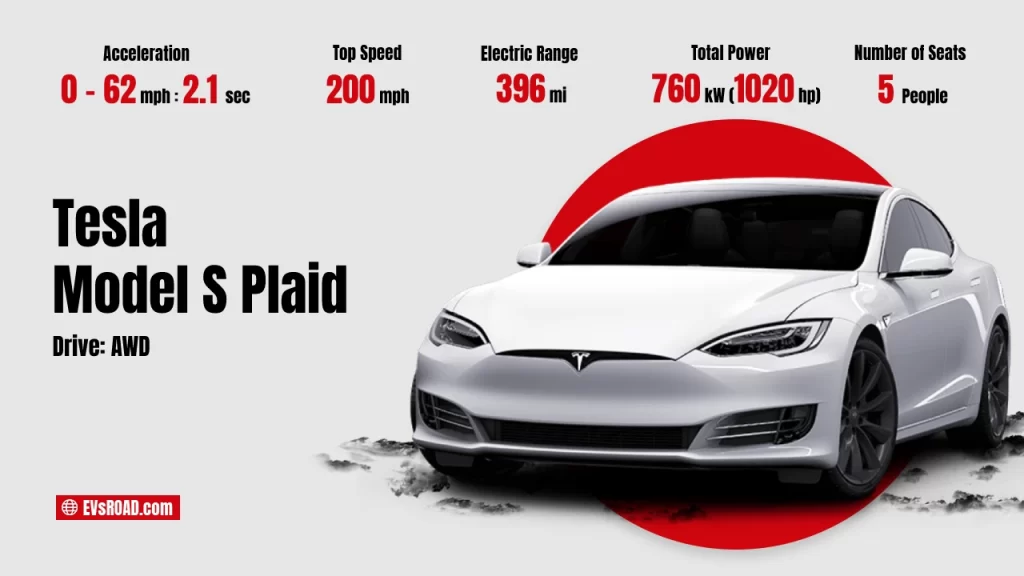 Tesla has achieved new heights with the launch of Model S. The Model S plaid has reached a new top speed of 200 mph. It is powered by three electric motors capable of churning out a healthy 1,020 hp at 1,050 lb-ft torque.
With these motors, no surprise that Tesla Model S Plaid is so fast that it can actually make you feel dizzy. Model S Plaid can complete the 0-60 mph challenge in just 1.99 seconds.
Whether it be the range, capacity of battery, safety, or speed, Tesla has set new benchmarks for the EV industry. This is why Model S Plaid isn't only about performance but it also has an estimated driving range of over 396 miles.
Obviously, you can't expect to achieve these range figures by cruising at over 200 mph. But still it's good to know that your car has a powerful battery. Model S Plaid starts with a decent price tag of $137,440.
6. Tesla Model X Plaid – 163 mph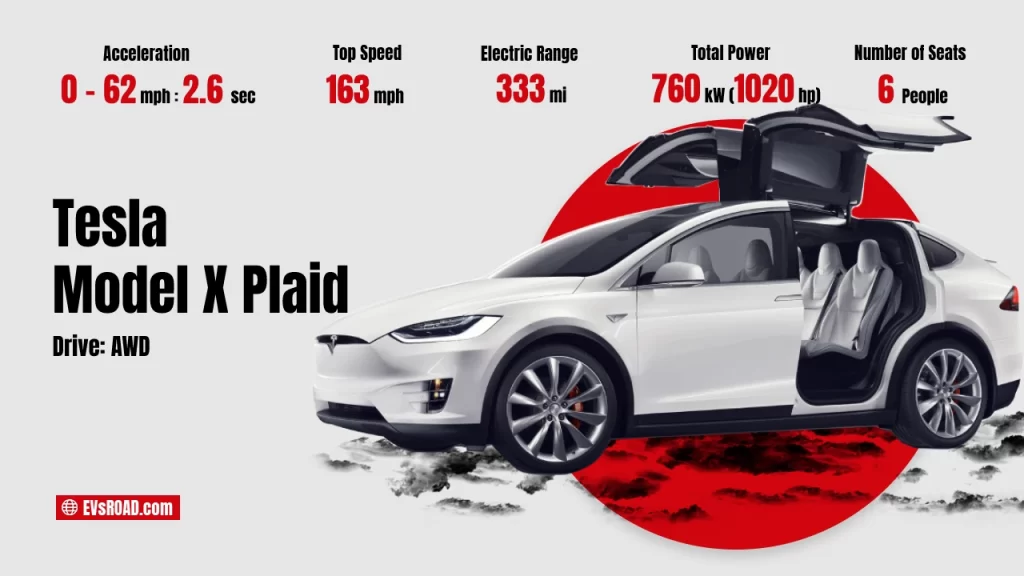 Here's to yet another Tesla on the list. It shouldn't amaze you that the top of the line variant of Model X, Model X Plaid, is capable of going faster than 150 mph. As if it is a child's play. The top speed of Tesla Model X Plaid is said to be 163 mph.
The standard variant of Model X is powered by two electric motor with a combined output of 670 hp. While a third motor is added to the all-wheel drive trim of Model X to take power specs up to 1,020 hp. This means a 0-60 mph time of just 2.5 seconds.
The price of Tesla Model X starts at $122,440 and goes up to $140,440 for the faster versions. However, the fast charging, impressive acceleration, and longer than ever range makes Model X plaid a car worth buying.
7. Porsche Taycan Turbo S – 162 mph
At last but certainly not the least is the Porsche Taycan Turbo S. Actually it was a tie between two cars for number 7 spot on our list. The other contender was the Tesla Model 3 Performance variant. It also has a top speed of 162 mph. But I didn't want a fourth Tesla on this list.
Nevertheless, in my opinion any fastest cars in the world list is incomplete without a Porsche. It was Porsche which inspired the concepts of super and hyper cars first. Porsche Taycan Turbo S is powered by two electric motors with a combined output of 750 hp at 774 lb-ft.
According the results of test run, Taycan EV can cross the speed of 60 mph in 2.4 seconds. In addition to that, Porsche has introduced a combination of two transmission in Taycan Turbo. On the front we have direct drive transmission while rear is laced with 2-speed automatic transmission.
This flexible transmission design enable you to enjoy the thrilling high speeds with utmost comfort. This goes without saying that nobody make cars like the Germans. They offer unmatched comfort plus luxury, and Porsche Taycan Turbo S is no different.
Taycan Turbo S is offered with a price tag of $188,850 which is comparatively higher than Tesla models with same specs. But then who said that this German beauty was going to come cheaply.
With this we conclude our list of the 7 fastest electric cars in the world today!
I invite you to read the cheapest electric cars on the market.
Final Word, 7 Fastest Electric Cars in the World
The competition to become the fastest car in the world is a rat race. Every month or so a new car is crowned with this title. Because some cars will always be faster than others. It is going to be the same with electric cars as the EV industry progresses.
This article has summed up the power and performance characteristics of the 7 fastest electric cars in the world today. Some cars here haven't reached their true potential yet so we would love to see them claim higher spots on this list next time.
What are your thoughts on this matter? Let us know in the comment section down below!