After the dream of a 35 grand Tesla 3 collapsed, not many thought they could buy an EV. We were left with a dire prospect that all the EVs would be thousands of dollars away from being affordable.
But in 2023, prices are inching ever closer to parity. The latest arrivals within the segment prove that a frugal buyer has a lot of viable options.
With that perspective, let's explore the 8 cheapest electric cars you can buy under $40,000.
Let's get started!
The Best Affordable Electric Cars
| | | | | | |
| --- | --- | --- | --- | --- | --- |
| Manufacturer | Model | Starting Price | Power Output (HP) | Battery Size (kWh) | Range (Miles) |
| Kandi | K27 | $ 17,500 | 27 | 17.69 | 100 |
| Chevrolet | Bolt | $ 26,595 | 200 | 65 | 259 |
| BYD | Dolphin | $ 27,200 | 94 | 30.7 | 187 |
| Nissan | Leaf | $ 29,135 | 147 | 40 | 149 |
| Mini | Cooper | $ 30,750 | 181 | 28.9 | 101 |
| Mazda | MX-30 | $ 34,695 | 144 | 35.5 | 100 |
| Hyundai | Kona | $ 34,845 | 201 | 64 | 258 |
| Volkswagen | ID.4 | $ 38,790 | 201 | 58 | 208 |
1. Kandi K27 – $17,500
Everybody thought that Kandi, a Chinese auto company, would never be able to launch its EV into the US market. But it is here nonetheless. That too at ridiculously low price of $10,000.
The car is priced at $17,500 but many buyers in the US would qualify for tax credit worth $7,500. Hence, an effective price of $10,000.
Now it is important to set the bar of expectations pretty low from a $10,000 EV. As one would expect Kandi K27 features a small 17.69 kWh battery pack with a range of about 100 miles. It has a top speed of only 63 mph.
Use of low quality plastics and inferior quality body panels is quite visible everywhere. But it can be used for travels within the city premises.
As part of its safety suite, it comes with a rear-view backing camera, a seat belt warning, and a speed sensing door locking system. The front end design looks a bit eccentric with the charging flaps on the front grille.
The side and back profiles look finer and futuristic. The chrome highlights on the side help break up the body line.
2. Chevrolet Bolt – $26,595
The Bolt from Chevrolet is powered by a single front-mounted motor that is capable of producing 200 hp and 266 lb-ft of torque. It has a 65-kilowatt-hour battery pack that gives a range of 259 miles on a single charge.
What makes this EV a true champion is its starting price. You can buy the base version of Chevy Bolt at just $26,595. And you get a proper electric car at this amazing price.
You can choose between 1LT and 2LT trims. The price of latter starts at $29,795. But 2LT isn't a wise purchase because it only offers a few extra frills and comfort features. Other than that, the range and battery pack are same in both trims.
Apart from the price point the efficiency of this car is exceptional. It achieves more than 3.5 miles per kilowatt hour. Even the charging speed is admirable. You can add a range of another 100 miles to your Bolt in less than 30 mins at a DC charging station.
The standard equipment list includes cloth upholstery, a new 8-inch digital cluster, a 10.2 inch infotainment with wireless smartphone compatibility and the innovative Chevy safety-assist suite.
3. BYD Dolphin – $27,200
Next up we have the BYD dolphin. The little hatchback sits on the new innovative e-platform 3.0 that is capable of supporting 800 V high-power chargers for quick charging.
Dolphin is offered with two different battery packs. One is the basic 30.7 kWh battery pack and other one is the long-range 44.9 kWh battery pack. They provide an estimated driving range of 187 miles and 250 miles respectively.
The pricing of BYD dolphin for the US market is yet to be revealed but we expect it to lurk around $25,000 mark. At the direct conversion rates it would cost $14,662 to buy this car in the US.
But if you add the tax duties the price would rise up really quick. Plus we have the precedent of the Australian market as well. Where BYD Dolphin was launched at a price of AUD 40,000 ($27,200) after on-road costs were added.
Dolphin is also the company's first model to adopt the marine aesthetics design concept and bears a new logo. It integrates the battery pack within the platform as a structural piece.
The exterior of the car has sporty side looks and a soupy front. In contrast, the elegant interior has a minimalist design with a horizontally oriented central touchscreen. The inspiring look of technical looking tail lights adds more beauty to this EV.
4. Nissan Leaf – $29,135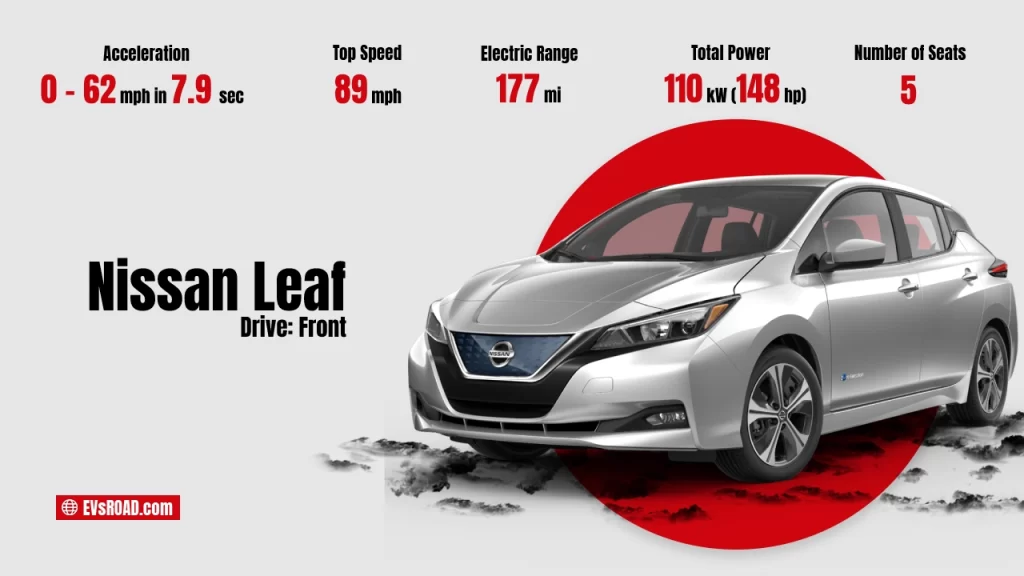 Nissan Leaf is another good option if you're looking for affordable EVs. The base trim of Leaf is equipped with a 148 hp electric motor and a 40 kWh battery pack. It has a starting price of $29,135.
Though this car doesn't have an exceptional range which is capped at 177 miles only. The only exciting thing about base variant of Nissan Leaf is its charging time. It only takes about 40 minutes to replenish its battery pack from 10% to 100%.
The top-of-the-line variant of Nissan Leaf might be a worthy buy, but it has a higher price tag of $37,135. Though it offers a bigger battery pack of 60 kWh and an admirable range of 212 miles, there are a lot of option when you breach the $35k mark.
Now let's talk about the car. It has a triangular front area which cuts into the wind, thus increasing your fuel or battery economy. It comes with projector headlamps, LED DRLs and also fog lamps.
The appearance upgrades include a refreshed grille, new bumper molding, headlights with a black inner finisher and an illuminated logo.
For better aerodynamics, the new Nissan Leaf comes with modified 17 inch 5 spoke aluminum alloy wheels, 3-shaped tire deflectors, rear diffuser and spoiler.
Black cloth interior, Nissan connect infotainment, and 6-way manually adjustable seats are standard. The must-have technology package with a safety shield is going to give you features like emergency braking, intelligent cruise control, and pro pilot assist.
5. Mini Cooper Electric – $30,750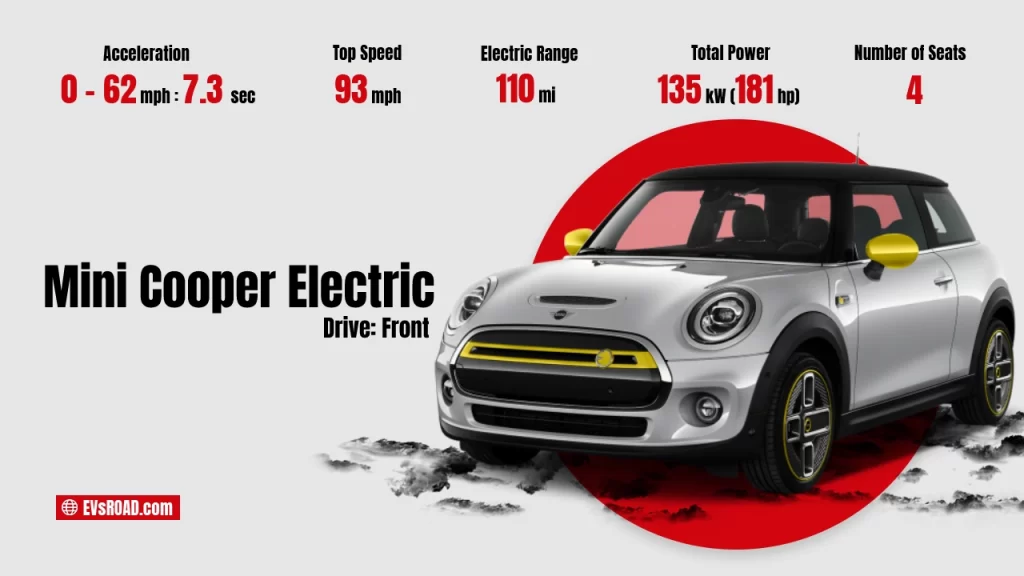 Nothing is more appealing than the all-electric 2023 Mini Cooper Electric in the go-kart mold. Its front-wheel-drive motor produces 181 horsepower and 199 lb-ft of torque. Mini cooper is powered by a 28.9 kWh battery.
Mini electric has a decent driving range of 101 miles if you consider its battery pack. It can be charged up to 80% in 35 minutes or less. The starting entry price of $30,750 makes it a lucrative package for the buyers.
The car can go from 0 to 60 mph in 6.1 seconds, faster than similarly sized electric vehicles like the Chevrolet Bolt EV. Inside the Cooper, a 5.5 inch digital cluster of gauges provides information on the battery's charge, the vehicle's range, navigational data, and other amenities.
Apple CarPlay, integrated navigation, and SiriusXM satellite radio are standard on the 8.8-inch touchscreen located in the center of the dashboard. Some optional extras for the Mini include wireless charging and a Harman/Kardon sound system.
6. Mazda MX-30 – $34,695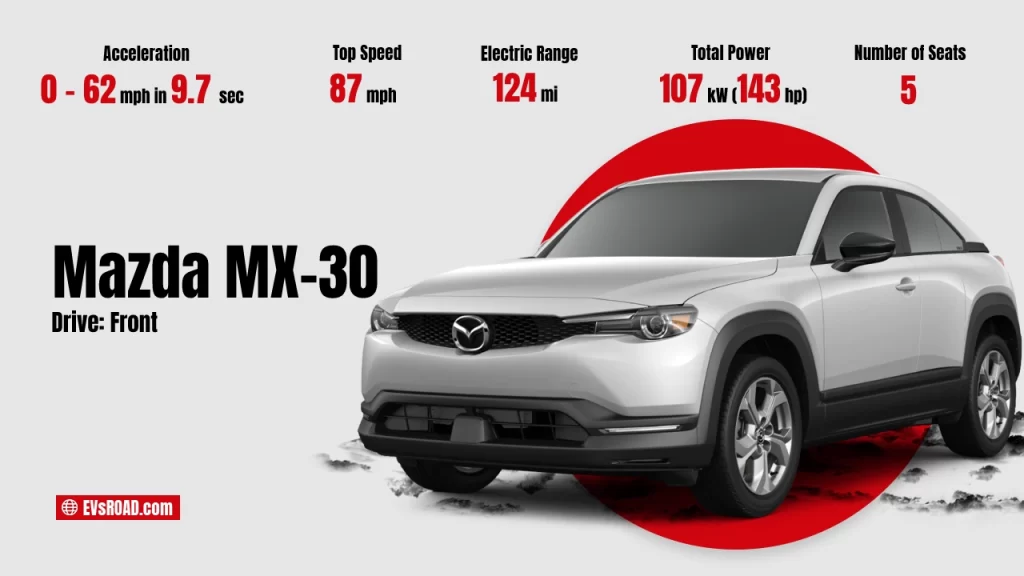 Speaking of affordability, we have to mention the new MX-30 by Mazda. The Mazda MX-30 will be the first all-electric, subcompact crossover starting at $34,695.
Its powertrain has one electric motor mounted on the front axle. The motor is capable of generating an output of 143 horsepower. The MX-30 has a 35.5-kilowatt-hour lithium-ion battery that gives a driving range of 124 miles on a single charge.
MX-30 is based on a sustainable design. The interior has been manufactured using recycled plastic bottles, hence reducing the plastic waste.
The cabin has a digitized screen on the dashboard to control climate. There is another secondary display that can be used to check other infotainment features such as the audio system, map navigation, and rearview camera.
7. Hyundai Kona – $34,845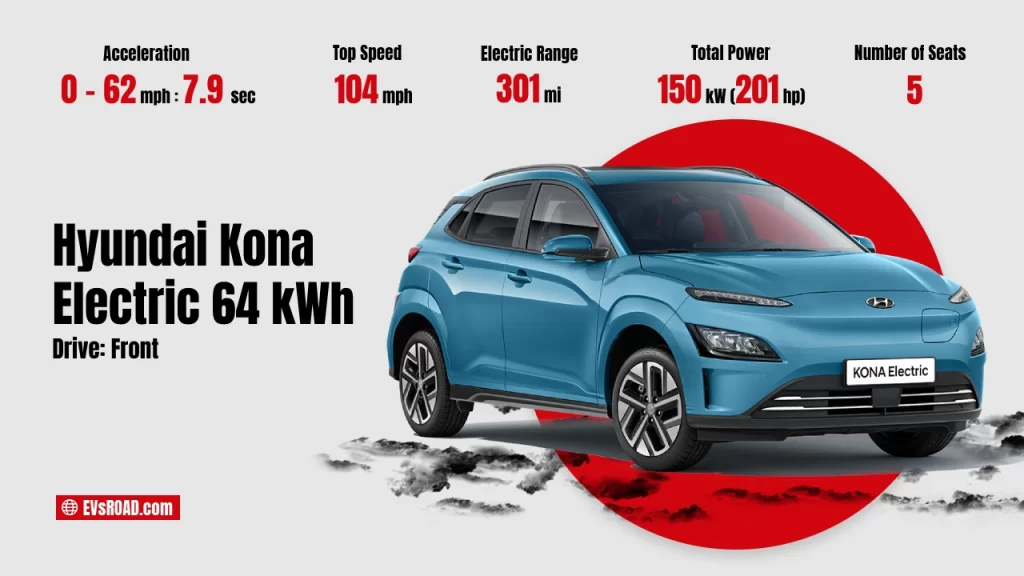 Hyundai has replaced the conventional 4-cylinder engine of Kona with an electric motor and battery pack. The result is an electric car of the subcompact SUV segment. The pricing of Hyundai Kona starts at $34,845 and goes up to $42,845.
Hyundai Kona is only offered with the front-wheel drive option. The motor placed at front wheels is capable of churning out a respectable 201 hp.
Hyundai Kona draws juice from a 64.0 kWh battery pack that can take it as far as 301 miles. All thanks to the aggressive regenerative braking feature in Hyundai Kona you can push the range for a few extra miles.
The large battery installed on the floor contributes to the vehicle's low center of gravity. This makes it stable and secure at high speeds on the highway.
The Kona is equipped with advanced technologies to keep you connected while elevating your driving experience. A 10.25 inch full digital gauge cluster ensures that you have a clear view of driving information, the head-up display which projects key information within your line of sight.
8. Volkswagen ID.4 – $38,790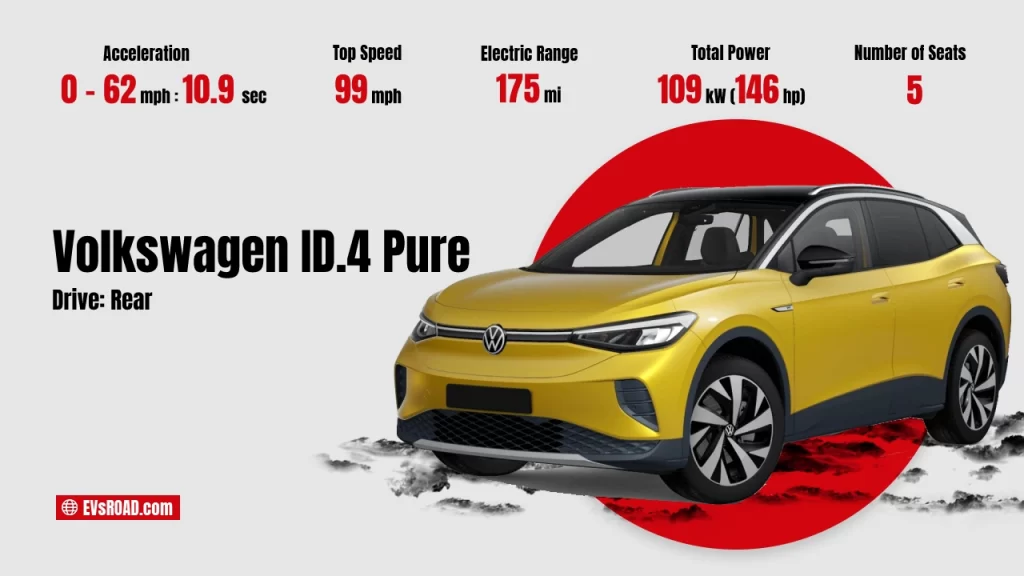 Volkswagen ID.4 in another solid car on this list. Since we all know that Volkswagen produces vehicles that target the masses.
It has tried to do the same in the EV segment with ID.4. ID.4 is offered in two different drivetrain options. The basic trim comes with a rear-drive motor capable of producing 201 hp.
Another motor has been added to the front wheels for all-wheel drive trims. The second motor takes the power output up to a decent 295 hp.
The basic trims are laced with 58.0 kWh battery pack that gives a range of 208 miles. While the long-range battery pack of ID.4 is capable of taking you 295 miles. Now that is impressive for an entry level EUV.
The interior of ID.4 is bright, cheerful, and clutter-free. The front seats are heated and covered in fabric as standard.
The car comes with plenty of safety and comfort features. We expect nothing less from the German automaker. The Pro S variant includes 12-way, power adjustable front seats with a memory feature and faux-leather upholstery.
Final Word, Cheap Electric Car
As electric vehicles go mainstream, prices continue to drop while range and quality continue to increase. Either way, car buyers will have more options throughout 2023 than before.
Hopefully we will move towards a more sustainable future as eco-friendly vehicles become popular as well as affordable.