Jetson Electric Bike was founded in 2012 by a team of experienced entrepreneurs and engineers in New York. Its aim was to design and manufacture innovative and environmentally friendly electric bicycles. The company has quickly built a reputation for producing quality e-bikes that are not only efficient and reliable but also stylish and fun.
Let's see the top 5 reasons to buy a Jetson electric bike in this article. In addition to that, I'll list the top 4 electric bikes of Jetson you can buy.
So, let's begin
What Does Jetson Do?
Jetson is an American manufacturer of electric bikes, folding bikes, mountain bikes, commuter bikes, electric scooters, and hoverboards. Jetson e-bikes are designed to provide a convenient and environmentally friendly mode of transportation. They are ideal for commuting or leisure riding. 
Since its founding, Jetson has expanded its product line to include a selection of e-bikes designed for different uses and rider preferences. The company continues to innovate its products with the latest technologies and features to ensure that its e-bikes remain at the forefront of the industry.
Most importantly, Jetson electric bikes offer a convenient, efficient, and environmentally friendly alternative to traditional bicycles or motorized vehicles. This makes them a popular choice for city commuters, recreational riders, and anyone looking to reduce their carbon footprint.
5 Reasons to Buy a Jetson Electric Bike
In addition to the general benefits of electric bikes, Jetson electric bikes are designed for high performance and reliability. Here are five reasons that only apply to Jetson electric bikes. You should buy a Jetson electric bike for the following reasons:
1. Use of High-Quality Materials
Jetson electric bikes make use of high-quality components. These include aluminum frames, powerful motors, and lithium-ion batteries. All Jetson electric bikes have to pass through a rigorous process of testing. This is done to ensure that they adhere to the highest standards of performance and safety. Thanks to this meticulous process, users get an electric bike that offers not only a safe and dependable ride but also one that is supple and comfortable.
2. Unmatched Style
Jetson electric bikes have an unmatched style. In addition to being marvels of engineering, these bikes are marvels of design as well. Jetson electric bikes stand out thanks to their sleek and contemporary design. There is a wide range of styles and colors available in the Jetson product catalog. This enables users to select an electric bike that matches their style.
3. Long Range
It is abundantly clear that Jetson electric bikes use high-quality motors, transmission systems, and lithium-ion batteries. So, what does it mean for the end user? Well, all this quality translates into a long-riding range as compared to most electric bikes available on the market. Each model has a different range, but some of them can go as high as 30 miles or even touch beyond that.
4. Exceptional Ride Comfort
Jetson bikes are designed with the rider's comfort in mind. It is done to ensure that the riders don't get taxed or feel exhausted while riding longer distances. Moreover, Jetson electric bikes are used by off-road enthusiasts, and off-roading is something that demands electric bikes to be comfortable. This is where Jetson has done so well.
5. World Class Customer Support
Customers of Jetson receive first-rate customer service. They have a committed group of professionals on hand to address any queries or worries you might have. Additionally, they provide a thorough guarantee and simple access to replacement parts. Your bike will always operate at its best, thanks to this. It is a lucrative USP for customers who are new to e-bikes or who might want assistance with maintenance or repairs.
Top 4 Jetson Electric Bikes to Buy
Jetson has launched several models of electric bikes since its inception. But some of these models stand out from the crowd. Here are four such models:
1. Jetson Bolt Adult Folding Electric Ride On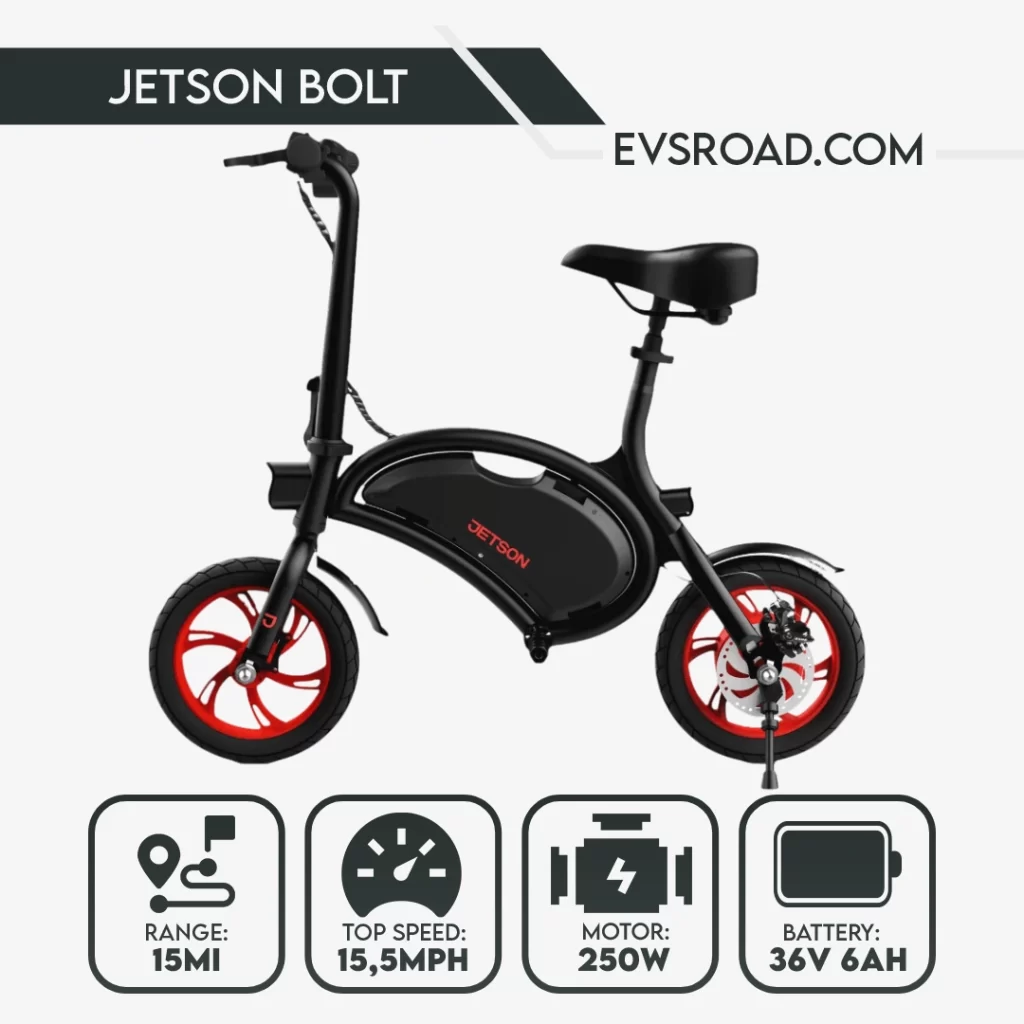 Jetson Bolt is an amazing electric bike. It is a great electric bike for beginners. Nothing too fancy about it, but the performance is spectacular. Plus, there is a 20% discount on Jetson Bolt on Amazon. Just click on the link above before the offer expires!
Why we love this product:
Jetson Bolt features a crafty and cocky design.
The frame of the Jetson bolt is sturdy and practical. It is laced with foot pegs so that you don't have to worry about hanging your legs mid-air.
It is a genuine portable and foldable electric bike. Weighing only 40 lbs, it can carry a maximum load of up to 260 lbs.
Powered by a 250-watt motor, Jetson Bolt can achieve a top speed of 15 mph.
The central LED display is given to show the remaining battery charging levels.
2. Jetson LX10 Folding Electric Bike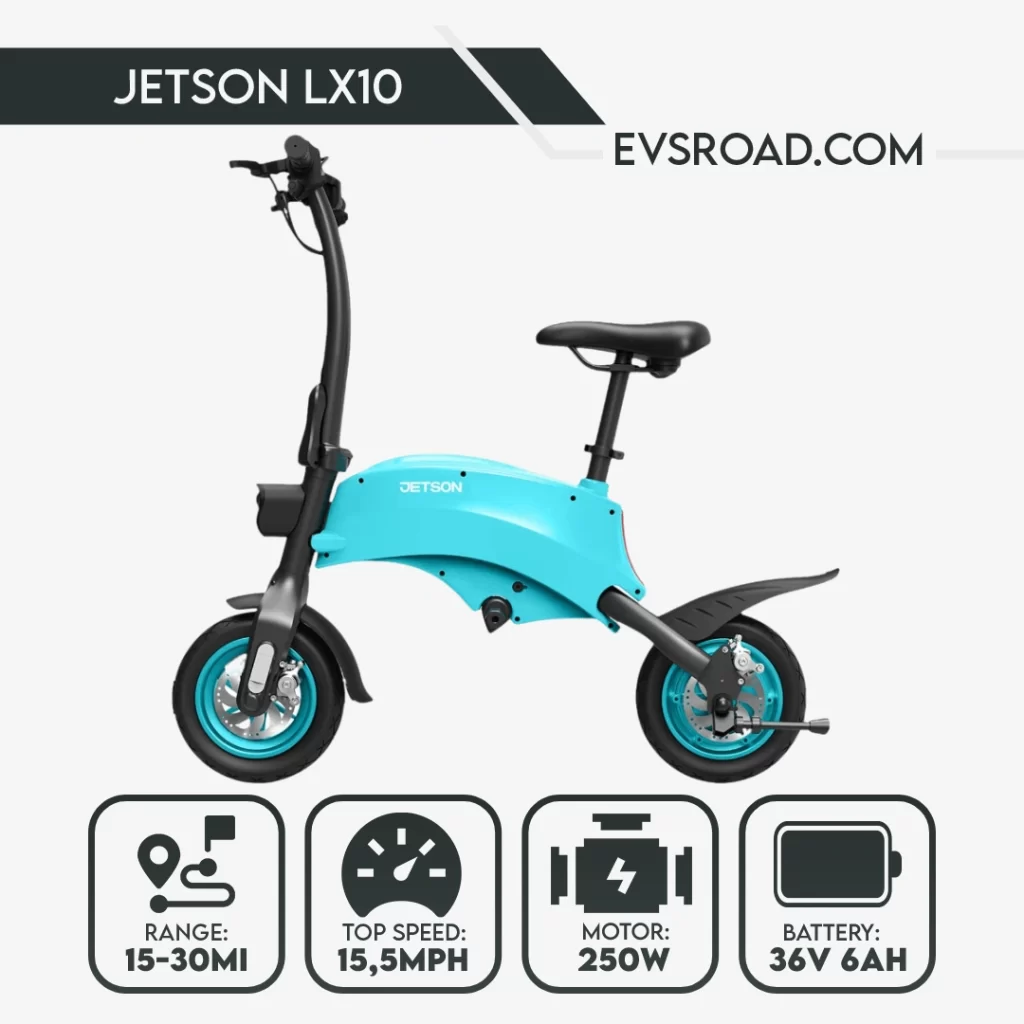 Jetson LX10 is a sweet, smart, and sleek electric bike. It is laced with a powerful motor, but the design is what truly stands out for this electric bike. LX10 is a great option if you're looking for an electric that can be used in resorts while traveling.
Why we love this product:
The 250-watt motor of LX10 gives you sufficient power while remaining quiet. You get a top speed of 15.5 mph with it.
The sturdy frame of this cute-looking electric bike can endure a maximum load of up to 260 lbs. Which means anyone, kids or adults, can ride it.
Jetson LX10 features a foldable design. It weighs only 36 lbs, so you can easily carry it in the trunk of your car or elsewhere.
The rechargeable lithium-ion battery pack of Jetson LX10 is concealed deep inside the frame so that no one can steal it.
You get a pair of LED headlights and a rear light for enhanced visibility and added safety.
3. Jetson J5 Electric Bike | Top Speed of 15 mph | Maximum Range of 15 Miles with Twist Throttle, 30 Miles with Pedal Assist | 350 Watt Motor|
To buy this product now, click on the link below:
Jetson J5 is kind of a legacy model by the company. It has a rugged exterior and a decent top speed. From the looks of the J5, you can guess that it will perform well on offroad tracks and difficult terrains. I'm just in love with the black-colored J5. It has a very classy feel to it.
Why we love this product:
The bike weighs only 37.5 lbs which means it is super-lightweight.
J5 has a top speed of up to 15 mph.
Powered by a 350-watt motor, Jetson J5 can undertake any offroad challenge.
It comes with 14" tires to give you extra road grip while riding on off-road tracks.
It offers three different modes of riding. The pure-electric mode can give a riding range of up to 15 miles. However, it can be extended up to 30 miles on pedal-assist mode.
J5 features an adjustable seat so that the rider can adjust its height according to his own.
4. Jetson Haze Folding Electric Bike | Top Speed of 15.5 mph | Maximum Range of 15 Miles | 3-Levels of Pedal Assist | 350 Watt Motor|
To buy this product now, click on the link below:
Jetson Haze is super-smart and super-convenient. It might be a slightly expensive option if you compare it with other Jetson electric bikes, but it is worth your money. The riding comfort of this electric bike is just amazing. Even after a long ride, you wouldn't feel a thing.
Why we love this product:
Jetson Haze weighs only 48 lbs, which is super-easy to carry around.
It has a top speed of up to 15.5 mph and can give you a range of 15 miles.
Haze electric bike offers three different levels of pedal assistance.
It is powered by a 350-watt motor that generates enough power to tackle a 15-degree slope.
It has a foldable design. The folded dimensions of Jetson Haze are 30.1″ x 17.5″ x 27.5″.
The batteries of this electric bike can be recharged in less than 5 hours.
The all-terrain wheels of Jetson Haze can undertake any challenge.
Final Word, 5 Reasons to Buy a Jetson Electric Bike (4 Top Jetson Electric Bikes)
Jetson has made quite a name for itself in less than a decade. All thanks to their high-quality products that are presented with unique and creative outlooks. Power and range are one thing, but one cannot ignore the eloquent design of a Jetson electric bike.
I've summarized the four best models of Jetson electric bikes you can buy. These products can be bought from Amazon or the official website of Jetson, whichever offers the best price.
Have you used a Jetson electric bike? Do let us know in the comments below. We would love to hear from you guys.