According to statistics, the average family size in the US is only 3.13 persons. So, having a car for four or a maximum of 5 people would make sense. But what if you've to go on a picnic and someone else has to join you? electric family car 7 seater would come in handy. But that's it. 7-seater cars have a very limited use case. This is why automakers have always launched fewer 7-seater cars as compared to 5-seater or 4-seater.
But now everyone is shifting towards an electric vehicle. What about those people who were using gas-powered 7-seater vehicles? Do they have some option to turn to? Gladly yes, now you can find an electric car with 7 seats as well. Though some of these options are really expensive, they are 7-seaters nonetheless.
We have listed these cars in order of 7-seater electric cars with the longest range. So, without further ado, let's get started!
Best 7 Passenger Electric Vehicles SUV 2023
1. Tesla Model X 7 Seater – 348 Miles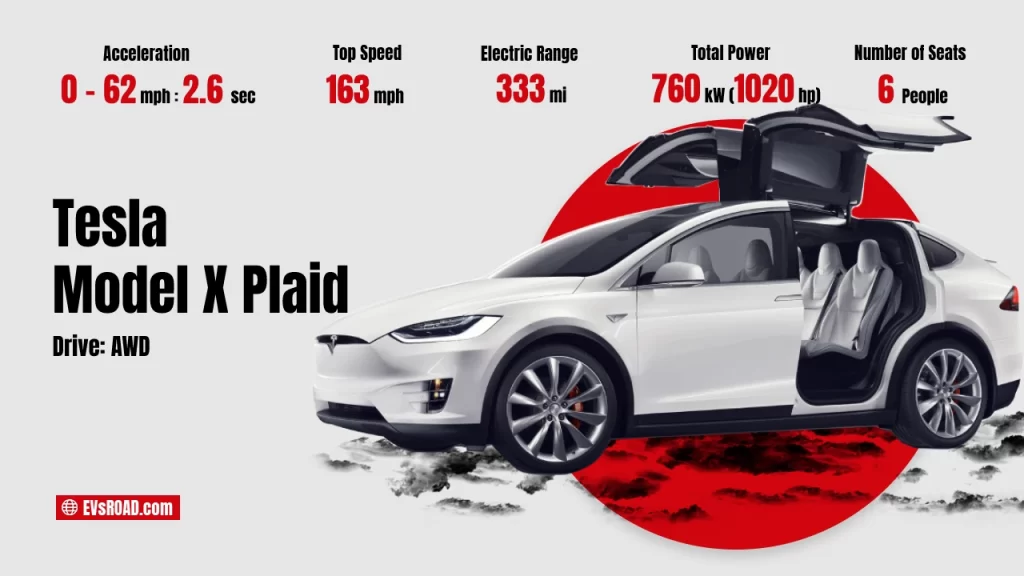 How is it possible to have an electric car list without a Tesla? It will be like listing the most reliable gas-powered cars in the world but not listing any Japanese brands.
It might come to you as a surprise that all Tesla Models come as standard 5-seaters, but they have room for two optional seats on the rear side. Thanks to the generous boot space of Tesla models, they can pretty easily seat two adults. Hence, models X, Y, and even S are considered a 7-passenger for all practical purposes.
Tesla Model X has an exceptional range of 348 miles, and the standard version produces a healthy 670 hp. No one can doubt the DC fast charging capabilities of a Tesla. At a rapid charging station, it will only take 30 minutes to charge your battery from 10% to 80%.
This charging time is really impressive if you consider the range of around 350 miles and a battery size of 100 kWh. The charging times could have been reduced if the battery pack had been smaller. But that would have reduced the driving range as well.
The price, as we expect from Tesla, starts at over $122,440. But if you consider the performance, range, MPGe, acceleration, and 7-seater capacity, it might seem justified.
Read the full review of the Tesla Model X.
2. Tesla Family Model Y – 330 Miles
Next up on our list is the Tesla Model Y. It is not only one of the most affordable Teslas but also the most affordable electric car with 7 seats. The pricing of Model Y starts at $52,000 for the base variant and goes up to $58,000 for long-range and performance trims.
Tesla Model Y is equipped with dual motors making around 384-470 hp. The base variant can reach zero to 60 mph in 4.4 seconds. However, the performance trim can breach the 60 mph mark in about 3.6 seconds. These are mind-blowing stats for a 7-seater vehicle.
Tesla Model Y comes with a slightly smaller battery pack as compared to other Tesla models. It is offered in two different battery packs. The standard version is laced with a 57.5 kWh battery, and the upper variants have a 75 kWh battery. Due to the smaller battery size, it can be charged from 10 to 80% in less than 25 minutes on a Tesla supercharger.
Read the full review of the Tesla Model Y.
3. Rivian R1S 7 Seater – 316 Miles
Rivian is a fairly new entrant in the EV sector. But so far, we have been hearing only positive things about the Rivian models. And rightly so because Rivian cars are made from high-quality materials, and they are giving extreme competition to the industry leaders such as Tesla.
The proper 7-seater option in the Rivian lineup is the R1S. It is not only a 7-seater large-sized SUV, but it also has an exceptional driving range of 316 miles. In addition to that, it has a very attractive entry price of $79,000. You might argue that even $79,000 is higher, but if you consider its quad motors producing over 835 hp, I would say it is a bargain.
Rivian R1S is mighty quick. It has a 0-60 mph time of only 3.1 seconds. It is very impressive for a car of this size. Plus, R1S is also a capable offroad vehicle. It has an adjustable air suspension which allows you to vary the suspension height between 8 and 15 inches. It is a true 7-passenger.
4. Volvo EX 90 – 300 Miles
Volvo needs no introduction in the world of automobiles. The company announced to transition from gas-powered vehicles to electric in the years to come. EX 90 will replace its outgoing gas-powered counterpart Volvo XC 90.
Volvo EX 90 will be powered by dual electric motors that produce an output of 400 to 500 hp. This would mean a zero to 60 mph time of under 5 seconds. The motors of Volvo EX 90 will draw power from a battery pack of 111 kWh. With this, it will give you a driving range of 300 miles.
EX 90 will also feature a fast charging capability. It is set to give tough competition to Tesla's fast-charging technology. EX 90's 110 kWh battery pack will be rejuvenated from 10 to 80% in less than 30 minutes at a DC fast charging station, which means that in less than 10 minutes, your car will be good to go another 100 miles or so.
However, real-time road stats are yet to be tested. If Volvo EX 90 is all that company is saying, then it will be a worthy buy starting at a price of $80,000.
Read the full review of Volvo EX 90.
5. Mercedes EQS SUV – 305 Miles
When it comes to the production of electric vehicles, Mercedes has been leading from the front. Whether it be the range or fast charging, Mercedes electric cars are better than most. Such is the Mercedes EQS SUV, which can give a driving range of over 305 miles.
It is not to be confused with its sedan counterpart, the Mercedes EQS 450+, which has a driving range of 453 miles. It also holds the record for being the longest-range electric car on the market right now. We expected more from EQS SUV, but 305 miles on a single charge is not that bad, especially if you consider the higher curb weight and huge exterior.
EQS SUV uses the same 107.8 kWh battery pack as the EQS sedan. At a DC fast charging station, it can be recharged from 10 to 80% in about 31 minutes. The starting price is set at $105,000, and for more premium trims, you will have to pay around $133,000.
Have your pick between power and efficiency with the Mercedes Benz EQS! Enjoy new levels of environmental consciousness while driving this spacious, long-range electric car.
6. Volkswagen ID Buzz 7 Seats – 260 Miles
If I had to choose a family outing 7-seater electric vehicle, this would be my pick. Volkswagen ID. Buzz has everything we need in a 7-seater car. On top of everything, its pricing is expected to start at under $40,000. This is great news!
Volkswagen is known for producing economy-segment cars. As we expected from the German automaker, it has entered the EV segment with a blast. Soon you can get your hands on a true 7-seater electric-powered van at a price under $40,000.
Plus, it will have a decent driving range of over 260 miles. The company claims that it will also be laced with fast charging capability. You would be able to charge a 70 kWh battery pack of ID Buzz from 5 to 80% in as little as 30 minutes.
7. Mercedes EQB – 260 Miles
Mercedes-Benz EQB is an exciting prospect in the segment of electric cars with 7 seats. It is fresh, dynamic, and vibrant. It has a very attractive entry price of $53,000. For this price, you get to experience the world-class comfort and luxury of Mercedes-Benz.
I personally feel that the motor power of the Mercedes EQB is not enough for a 7-seater. It is capped at 288 horsepower for most variants. But even with smaller motors, EQB manages an impressive zero to 60 mph time of 5.4 seconds.
Mercedes EQB is laced with a 66.5 kWh battery pack which gives you a range in excess of 250 miles. Combining this with the fast charging capability of Mercedes EVs, EQB can be recharged from 10 to 80% in less than 30 minutes at a DC fast charging station.
Reviewers have complained that the third row of seats is not comfortable. So, we expect Mercedes to improve the comfort of 3rd-row seats in the upcoming models.
Read the full review of Mercedes EQB.
Looking for a new, fast electric car? This article dives into the seven fastest electric vehicles out there.
Final Word, Electric Car With 7 Seats
7-seater cars are a very niche market. On top of that, finding an electric car with 7 seats can be even harder. But don't worry; we have brought you the 7 best electric cars with 7 seats. Most of the cars in this article are from Tesla or Mercedes.
Electric or no electric, an electric family car 7 seater is always expensive in comparison to a 5-seater. But in this list, you can also find some very affordable options, such as Volkswagen ID. Buzz. It has starting price of around $40,000. What else can you ask for?
Are you using an electric car with 7 seats? How's the experience? Do 7 passengers considerably slow down your otherwise swift EV? Do let us know in the comment section below. We would love to hear from you guys.